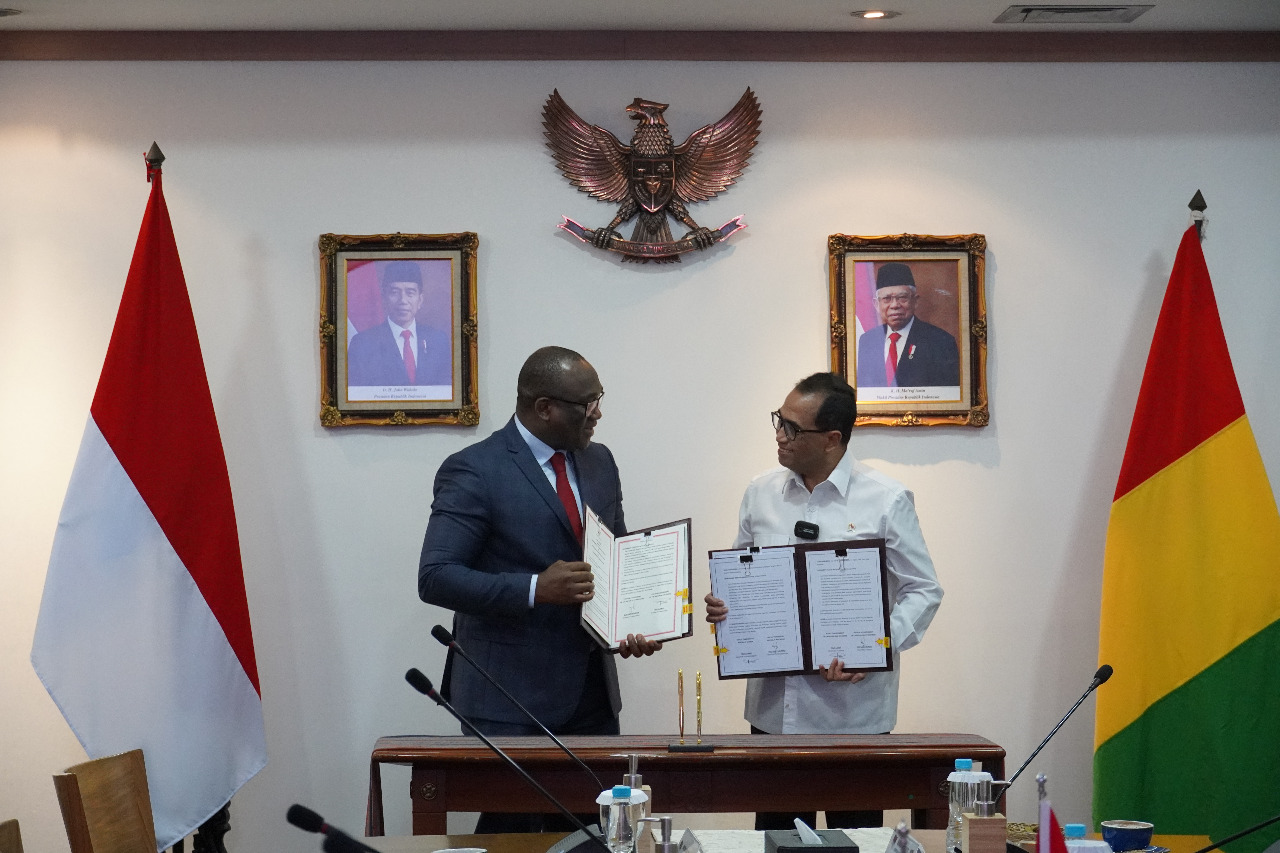 The Letter of Intent on the transportation sector is expected to increase cooperation between Indonesia and the Republic of Guinea in various fields, including those on aircraft procurement and capacity building.
Jakarta (Indonesia Window) – Indonesia's Transportation Minister Budi Karya Sumadi met with his Guinea's counterpart Felix Lamah on Thursday, Jan. 26, 2023 in Jakarta, to increase cooperation and sign a Letter of Intent (LoI) on the transportation sector.
The LoI on the transportation sector is expected to enhance the bilateral cooperation, including that on aircraft procurement and capacity building, according to the Indonesian Ministry of Foreign Affairs in its official statement as quoted by Indonesia Window on Saturday.
During his visit to Jakarta, the Guinean minister of transportation was accompanied by the Indonesian Ambassador in Dakar, Dindin Wahyudin, and the Indonesian Honorary Consul in Conakry, Alexandre Camara.
This visit is a follow-up to a result of a meeting between the Indonesian Ambassador in Dakar and Guinea's transitional president in September 2022.
The Guinean government has expressed the need to modernize the transport, infrastructure and connectivity sectors in that country which will also revive the Guinea Air in the near future.
For this reason, the Guinean minister of transportation expressed his interest in the CN-235 aircraft and various other types of passenger aircraft produced by PT. Dirgantara Indonesia (PT DI/the Indonesian Aerospace), which he visited in Bandung city, West Java province, on Wednesday (25/1), during which he also visited the Museum of the Asian-African Conference.
"The aircraft produced by PT DI in Bandung, like the Bandung Spirit of the Asian-African Conference, have spread to various countries in Asia and Africa," Indonesian Ambassador Dindin Wahyudin told Felix Lamah while visiting the museum, which inspired Asian and African countries to be free from colonialism.
Guinea is the second largest bauxite producing country in the world and has the first largest mineral reserves in the world.
Apart from the transportation sector, Retno Marsudi's meeting with Felix Lamah also discussed increasing bilateral relations, especially in the strategic industrial and infrastructure fields.
Foreign Minister Retno welcomed the signing of a Letter of Intent in the transportation sector between the Indonesian and Guinean ministers of transportation.
"We will materialize this agreement into real cooperation, especially in the fields of air, maritime and land (railway) transportation, both on G-to-G and B-to-B bases," the foreign minister said while encouraging cooperation between Indonesia's state-owned enterprises and counterparts in Guinea.
Reporting by Indonesia Window