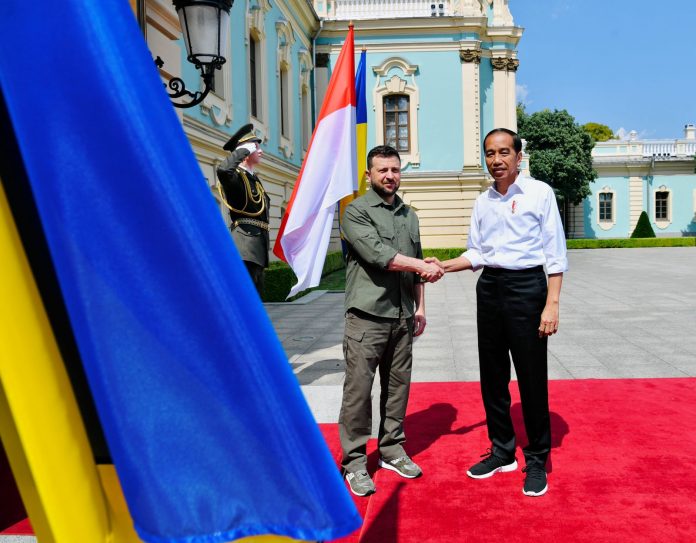 Jakarta (Indonesia Window) – Indonesian President Joko Widodo (Jokowi) arrived at the Maryinsky Palace, Kyiv, and was greeted by Ukrainian President Volodymyr Zelenskyy at the palace entrance on Wednesday afternoon (June 29) at around 03.00 p.m. local time.
After the welcome, the two leaders held a tete-a-tete meeting at the Ukrainian state palace.
During the meeting, President Jokowi was accompanied by Foreign Minister Retno Marsudi and Cabinet Secretary Pramono Anung.
Previously, in a press statement prior to his departure abroad on Sunday (June 26) morning, at Indonesia's Soekarno-Hatta Airport in Tangerang district, Banten province, the president stated that his visit to Ukraine and Russia to meet the leaders of the two countries carried a mission of peace.
"His mission is to invite the President of Ukraine, President Zelenskyy, to open a space for dialogue in the context of peace, to build peace, because war must be stopped, and it is also related to the food supply chain which must be reactivated," the Indonesian president said.
From Ukraine, the head of state will continue his working visit to Russia to meet his counterpart President Vladimir Putin.
"From Ukraine I will go to Russia to meet President Vladimir Putin. Once again, with the same mission, I will invite President Putin to open a space for dialogue and as soon as possible carry out a ceasefire and stop the war," Jokowi said.
Before meeting with Zelenskyy, the Indonesian head of state and First Lady Iriana Jokowi visited the Lipky Apartment complex in Irpin City which has been destroyed by war, accompanied by the Mayor of Irpin Alexander Grigorovich Markushin.
The president hopes that the war can be stopped soon and that no more cities in Ukraine would be damaged by war.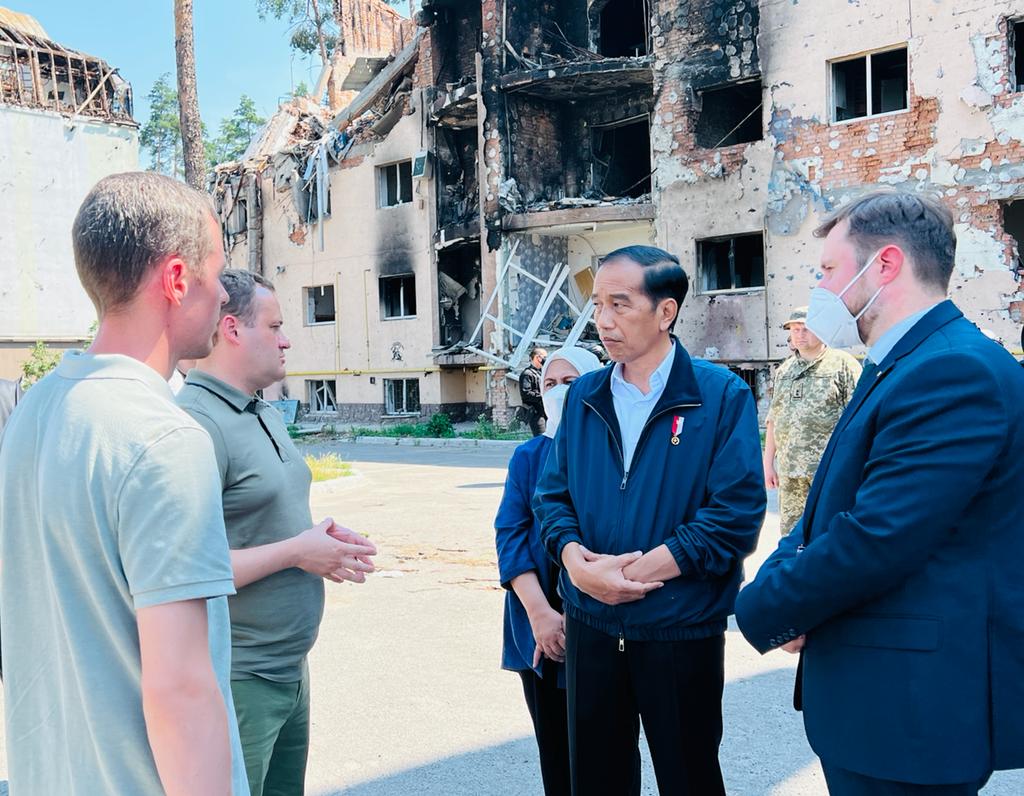 Jokowi's journey to Ukraine was taken by extraordinary train via Przemysl Glowny Station in Przemysl City, Poland on Tuesday (June 28) at 09.15 p.m. local time, after attending a series of G7 Summit meetings in Elmau, Germany.
This extraordinary train was prepared by the Government of Ukraine as also used by other country leaders who visited Ukraine some time ago.
Reporting by Indonesia Window