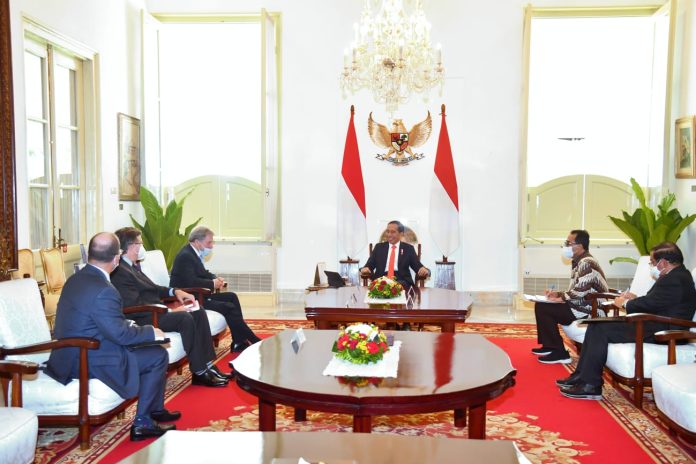 Boeing International President Michael Arthur met with Indonesian President Joko Widodo, discussing the scheme to meet the need for aircraft in the country.
Jakarta (Indonesia Window) – Indonesian President Joko Widodo (popularly known as Jokowi) received Boeing International President Michael Arthur and his delegation at the Merdeka Palace in Jakarta on Wednesday (Oct. 2).
On the occasion, Indonesia's Minister of Transportation Budi Karya Sumadi accompanied President Jokowi, and said that Boeing International is Indonesia's strategic partner in the aviation industry, according to the Indonesian Cabinet Secretariat in a statement received here on Thursday.
"Earlier, Boeing president said that Indonesia is an important country for the aviation industry as the country has many islands and many cities. Therefore, Boeing is very interested and would always support Indonesia. Of course, this support can be implemented with concrete policies," the minister said.
The event also discussed the scheme for aircraft needs, Budi said, adding that the Ministry of Transportation in particular also held a discussion session on the aviation industry during a G20 meeting in Bali.
The minister also pointed out that the meeting discussed aircraft supply and demand.
"It was discussed by Boeing which would think of the scheme. At the Bali G20 meeting, I as the minister of transportation also specifically held a discussion session on aviation, and how we improve Indonesia's aviation capacity so that the country can serve and meet all the needs of the people," he said.
The minister also explained that President Jokowi conveyed the importance of collaboration and strategic cooperation between Boeing and other relevant parties in Indonesia.
"The president stated that Boeing should also collaborate with stakeholders in Indonesia, such as the Indonesian Aerospace (locally known as PT Dirgantara Indonesia/PTDI) which already has an MoU in which PTDI carries out a construction design and supplier activities to Boeing, in the hope there would be a value close to 1 trillion rupiahs (about 63.7 million US dollars)," Budi said.
Boeing is also willing to carry out learning activities to improve people's abilities, he said, considering that Indonesia's role is increasingly important for other countries around the world.
"The other is capacity building. Boeing is also willing to carry out learning activities for the people. However, the important thing is that we see that our country is increasingly becoming an important country throughout the world in the midst of the G20 where the universal community really gives an appreciation for Indonesia," he noted.
Reporting by Indonesia Window