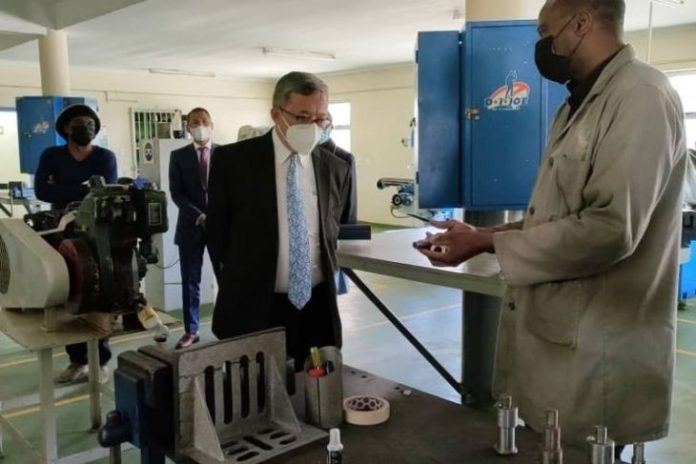 Animal husbandry cooperation is being explored by Indonesia following an offer by the Governor of Omaheke Province, Namibia, to invest in the livestock sector in the province.
Jakarta (Indonesia Window) – The Governor of Omaheke Province, Namibia, Pijoo Nganate, invited Indonesian business people to conduct animal husbandry cooperation in the province, when he received the Indonesian Ambassador, Wisnu Edi Pratignyo, in Gobabis City, last Thursday (Oct. 27).
"We invite Indonesian investors to build a collection center for cow's milk from farmers and a cow's milk processing center as well as the development of an abattoir/slaughter house facility in Omaheke," said Governor Nganate in a statement released by the Indonesian Ministry of Foreign Affairs on Monday (Oct. 31).
Responding to the invitation for animal husbandry cooperation, Ambassador Wisnu said that the Provincial Government of Omaheke could apply for a grant from the Government of Indonesia through Indonesia AID.
"The Indonesian government has a development assistance grant scheme through the Indonesia Agency for International Development. To obtain this assistance, the Omaheke Provincial Government can submit a proposal detailing its needs," Wisnu said.
In addition to discussing the potential of animal husbandry, Ambassador Wisnu also explained the potential for cooperation in the field of human resource capacity through vocational education.
"Indonesia has vocational schools at the high school/vocational school level. Vocational students can gain special practical skills that prepare them to win jobs or create their own businesses," Ambassador Wisnu said when explaining the profile of the vocational education in Indonesia.
To explore the potential for cooperation in developing vocational education in Namibia, Ambassador Wisnu and Governor Pijoo Nganate visited the Omaheke Vocational Training Center (VTC), Gobabis Community Skills Development Center (COSDEC), and Omaheke Innovation Village (O-Space).
VTC has three training facilities or workshops, namely office administration, electronics, and air conditioning.
In 2023, VTC will open new workshops in the fields of automotive, leather and fashion, and fabrication techniques, and COSDEC offers training courses for office administration, plumbing and plumbing, wall construction, welding/fabrication, catering, and wood processing courses.
Meanwhile, Omaheke Innovation Village (O-Space), which is an initiative of the Omaheke Provincial Government to encourage entrepreneurship and innovation, offers paid and unpaid trainings for various groups of people.
VTC, COSDEC and O-Space aim to provide expertise to the community, but their functions do not run optimally due to constraints on the limited number of teachers and the availability of budget and equipment.
The three agencies expressed their needs to increase the number of teaching staff members and improve the skills of their teachers.
Reporting by Indonesia Window