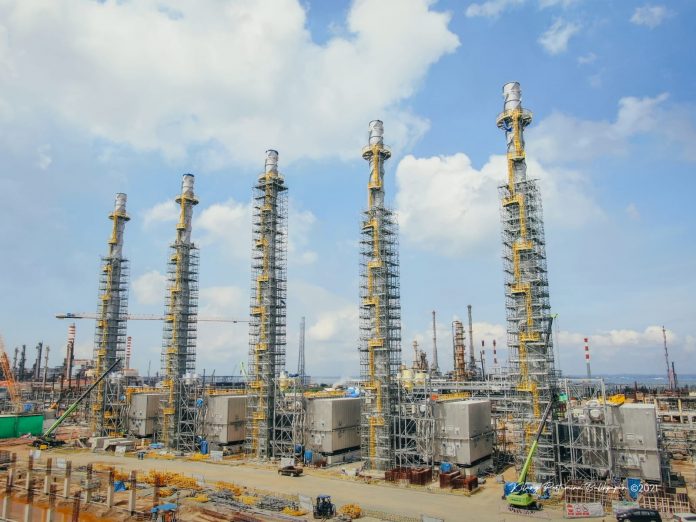 Jakarta (Indonesia Window) – The sub holding refining and petrochemical of Indonesia's state-owned oil and gas company Pertamina, which is running the refinery development project in Balikpapan district, East Kalimantan province, will produce fuel oil and petrochemical products with Euro V standards.
It is as an effort to increase the value and quality of products that comply with the international standard, and make them environmentally friendly.
"This effort supports the government's policy to set a roadmap for the implementation of Euro V fuel standard in Indonesia by 2027," the sub holding's corporate secretary Ifki Sukarya said in Balikpapan, East Kalimantan, on Saturday (Nov. 6), according to Antara News Agency.
Ifki said, not only is the Balikpapan development project aimed at increasing refinery capacity, but also building a green refinery that produces quality and high valuable and environmentally friendly products according to Euro V standards, which have a more efficient consumption rate.
The development of this oil refinery is the largest project ever managed by the sub holding company, particularly in the oil processing and petrochemical sectors.
Ifki explained that the Balikpapan refinery project is scheduled to complete by 2024 with the target of increasing the production capacity of the Balikpapan Refinery Unit (RU) V Refinery from 260 MBSD (million barrels per day) to 360 MBSD, and producing quality products that meet Euro V standards.
"The RFCC or residual fluid catalytic cracking unit is a refinery unit that utilizes cracking technology with a catalyst to convert heavy/residue oil into more valuable and high-quality products. This unit is targeted to start production in the first semester of 2024," he explained.
"Meanwhile, the unit that produces high octane mogas (motor gas) components will start production at the end of the second semester of 2024," he added.
Pertamina's Balikpapan refinery is currently the second largest refinery belonging to the state-owned company. About 25 percent of the national refinery capacity comes from here.
"This refinery has a strategic position, especially to meet energy needs in eastern Indonesia," said Ifki.
The development of the Balikpapan Refinery, Ifki continued, would add the number of high quality products that have been produced so far, namely High Speed ​​Diesel 50 ppm (HSD 50 ppm), Net Bottom Fractionator (NBF), Smooth Fluid (SF) 05, Low Aromatic White Spirit (LAWS), and Marine Gasoil (MGO) Low Sulfur.
In addition, the Balikpapan Refinery will produce a new product, namely propylene, which is used as a raw material for polypropylene factories.
On a more global scale, according to Ifki, reaching fuel product according to Euro V standards also support Indonesia's commitment to tackling climate change.
At the COP 26 climate change summit in Glasgow, Scotland, a number of world leaders including Indonesian President Joko Widodo renewed their commitment to achieve energy transition to a low-emission fuels while ensuring climate-resilient future.
To demonstrate this commitment, the head of state issued a Presidential Regulation on the Economic Value of Carbon which made Indonesia a first mover in tackling market-based climate change at the global level towards sustainable economic recovery.
"Indonesia has been considered as a potential super power country in tackling climate change and has even become a first mover with the ratification of the Presidential Decree," said Ifki.
Indonesia seeks to meet its second updated National Determined Contribution (NDC) target by reducing greenhouse gas (GHG) emissions by 29 percent by 2030 or 41 percent with international supports.
Reporting by Indonesia Window