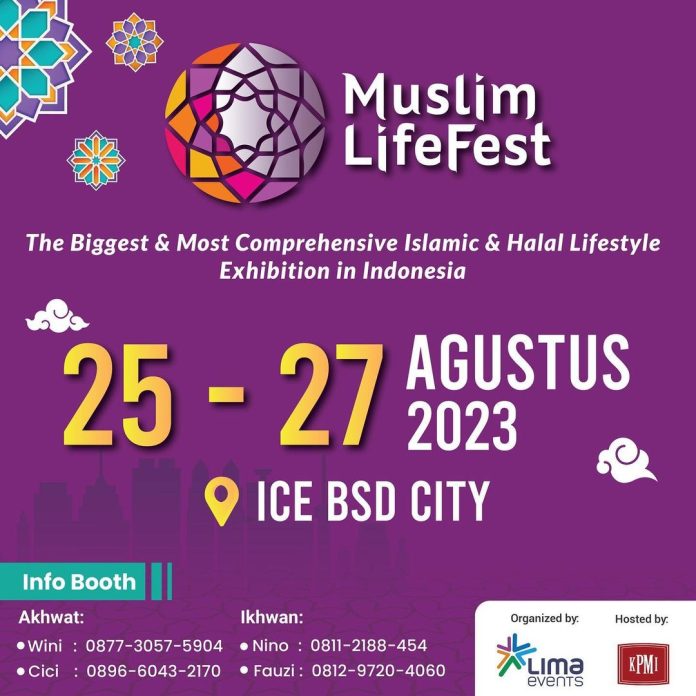 Muslim LifeFest event 2023 also presents a playground area from byghuraba, activity mini zoo (animal feeding), horse riding and archery activities in collaboration with Branchsto.
Jakarta (Indonesia Window) – The Indonesian Muslim Entrepreneurs Community (KPMI) together with Lima Events once again will hold a business exhibition for halal products and the sharia industry, Muslim LifeFest event 2023, at the Indonesia Convention Exhibition BSD (ICE BSD) in Banten province, on August 25-27.
Director of PT Lima Event Indonesia (Lima Events), Deddy Andu, said, "This event titled Collaboration for the Ummah is expected to be a place for collaboration among Muslims to jointly support the growth of the Islamic economy in Indonesia, as well as build solid partnerships in an effort to achieve economic prosperity together".
Deddy Andu added that visitors are expected not only to shop, as they are also offered with many choices of events such as parenting workshops, science talks with asatidz/astatidzah, sharia economic talks, book reviews, business workshops and digital skills.
Parents should not worry about their children, because there is a playground area from byghuraba, activity mini zoo (animal feeding), horse riding, and archery activities in collaboration with Branchsto, at Muslim LifeFest event 2023 (Indonesia Muslim Lifestyle Festival).
"As part of the people's market for halal products, we are working with the National Food Agency to hold a cheap basic food market with special prices during the exhibition," Deddy Andu explained.
Meanwhile, the Chairman of the Indonesian Muslim Entrepreneurs Community (KPMI), Rachmat Surtanas Marpaung, said that Muslim LifeFest, which was consistently held simultaneously in several cities, is intended to strengthen the ecosystem for businesspeople dealing with halal products, Islamic economics and finance.
Given Indonesia's big dream of becoming the center of world halal producer in 2024, this activity really needs the role of the ecosystem to drive growing potential, create demand, increase added value and quality of Indonesian halal products.
"Muslim Lifefest is an effective event to outreach and enliven Islamic economic and financial literacy and inclusion. Therefore, we invite various parties to collaborate with each other to realize the closest target this year, which is one million halal certificates for food, beverage, slaughter products and slaughter services," Rachmat noted.
It is known, the first phase of the mandatory phasing of halal certification will end on October 17, 2024. Based on the provisions, after that date, business actors dealing with food and beverage, slaughter products, and slaughter services in Indonesia must be halal certified, otherwise a penalty will be imposed.
"We want to encourage business actors, especially in the food and beverage industry sector, to become halal certified. Therefore, at this Muslim LifeFest there will be an award for business actors who are halal certified. Later, the five winning business actors will be given a free standard size booth at the Halal Expo Indonesia event which will be held in October this year," Rachmat pointed out.
During the exhibition, according to Rachmat, a number of halal certification assistance teams are ready to visit businesses and provide direct assistance until they obtain halal certification.
KPMI or the Indonesian Muslim Entrepreneurs Community accommodates 80,000 Muslim entrepreneurs and anyone who wants to learn entrepreneurship. KPMI also focuses on literacy and education programs, how to manage a business according to sharia and modern management principles.
In addition, KPMI conducts training, mentoring and mentoring with members to increase capacity and competence so that businesses can be managed better. For Muslim entrepreneurs who wish to join KPMI, they can register on the https://kpmi.or.id/member page.
After the implementation of the Muslim Life Fest at ICE BSD, it is planned that the KPMI exhibition and the next Five Events at the Indonesia Muslim LifeFair 2023 will continue in the city of Bandung, West Java province on November 3-5, 2023.
Event info: IG @indonesiamuslimlifefest
Media contact for Muslim LifeFest: Kartina Ika Sari : 081310976735
Occupying an area of 10,000 m2, the Muslim LifeFest event is expected to be attended by 250 exhibitors from 196 brands with 14 categories ranging from modest fashion, Muslim accessories, Islamic weddings, herbal thibbun nabawi, FMCG, children's products, hobbies and communities, Islamic education, Islamic books & publishers, home appliances, Hajj & Umrah travel, financial institutions, halal cosmetics, to safe & healthy (typical) halal culinary.
Since 2019 it was held, Muslim LifeFest has continued to grow and develop to become a trendsetter in the development of the halal product business in Indonesia.
Business actors dealing with halal products and sharia finance make Muslim LifeFest a strategic moment to introduce the latest products and services, expand business networks, find insights, strengthen friendships and increase the capacity of muamalah fiqh which is the foundation of doing business according to the Sunnah.
Not surprisingly, 60 percent of exhibitors are loyal participants who have benefited from this event. Not only do they come from Indonesia's capital Jakarta and its surrounding areas like Bogor, Depok and Bekasi as well as West Java province, but also outside Java island such as Sumatra and Papua, in addition to the remaining 40 percent of new participants.
As the organizer, Not only does Lima Events stop creating and innovating to make new programs that are packaged creatively by collaborating with a number of partners.
These new programs include those with Deryansha, the founder and CEO of Kasisolusi, that is ready to present sportsmanship badminton between influencers and visitors (fun match), with attractive prizes from Majeed (Muslim LifeFest's official merchandise partner, which is clothing brand by Deryansha).
Coffee connoisseurs and baristas can also take part in the V60 manual brewing competition, which is a coffee brewing competition that collaborates with the Indonesian Coffee Association (ASKI).
For lovers of modified motorbikes, of course it is unfortunate to miss the opportunity to stay in touch and find fresh inspiration from Kawan Parjo (Otomotif Jongkok Market) that on the occasion of Muslim Lifefest collaborates with BMT Ash-Shidiq which is ready to serve your automotive hobby needs in accordance with a syar'i contract.
In addition, the existing Serlok Kuliner program will return to the event, together with Uki Kautsar and Reda Samudera, presenting a warm conversation about the culinary business while eating halal, safe and delicious culinary dishes in the culinary zone.
For parents who plan to send their children to Islamic boarding schools or other Islamic schools, this time the Muslim LifeFest event is in conjunction with Muslim Edufest which is organized by PT Satue Event and Bina Masyarakat Madani Indonesia (BMMI).
The activity will feature dozens of Islamic education institutions, starting from the elementary, junior high, high school & university levels. Various educational and competition talk show programs or syrhul hadith arbain nawawiyah will also be held.
The organizer of the activity is PT Lima Event Indonesia (Lima Events), which is a Professional Islamic Exhibition Organizer company in Indonesia which was founded in 2019.
As for Lima Events, being an exhibition organizer of Muslim LifeFest event 2023 is not just doing business, but an endeavor to continue to spread Islamic messages in every step taken by the company.
With a vision of a commitment to promoting Islamic values in the business, Lima Events builds synergies to advance the Islamic industry in Indonesia.
The Indonesian Muslim Entrepreneurs Community (KPMI) was founded in 2010 in Bogor, West Java province, by several assatidzahs and Muslim entrepreneurs who have a strong desire to spread knowledge about how Muslim entrepreneurs carry out and manage their businesses according to the example set by Prophet Muhammad, Rasulullah Shalallaahu Alaihi Wassalaam.
KPMI is based on Pancasila (the Indonesian National Ideology) and the 1945 Constitution and in carrying out its programs and activities it  always refers to the straight Islamic Aqidah (basic principle) and carries out provisions in accordance with Islamic Shari'ah (law), based on the authentic Al Quran and Hadiths in accordance with the understanding of salafush shalih (ulamas – former Islam's pious scholars).
Editing by Indonesia Window