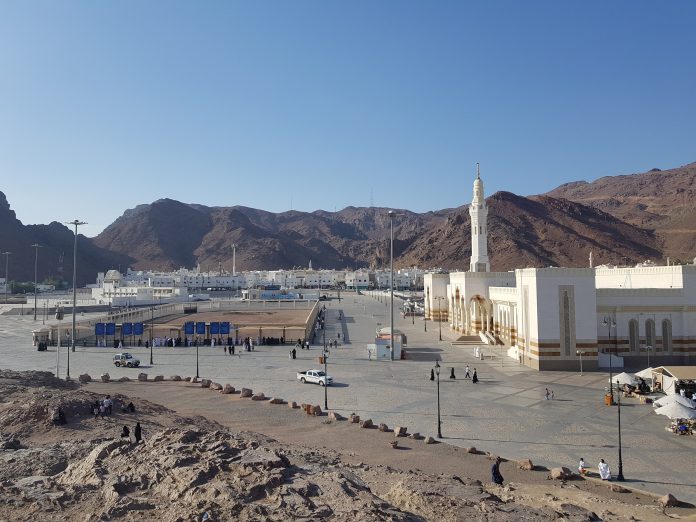 Jakarta (Indonesia Window) – The Municipal Administration of Madinah, Saudi Arabia is working on the Uhud Avenue project which will connect the Prophet's Mosque (Nabawi Mosque) and the Shuhada cemetery on the Mount Uhud valley.
The project, which so far has reached 25 percent of its completion, is part of a program to improve the city's living conditions for nationals and visitors.
The Uhud Avenue project design includes both pedestrian and bus routes, as well as the development of service points on both sides of the road.
The project also includes preparing lanes for people with special needs, establishing spaces from the central area to the airport road intersection to achieve smooth traffic flow during rush hour, and providing pedestrian services, rest and waiting areas, and fountains.
It will also expand green spaces, increasing the number of trees and canopies along the road in a way that suits the character and identity of the surrounding area north of the Prophet's Mosque.
The Uhud Avenue project is being implemented in several phases to ensure balanced and sustainable development, as well as the deployment of cultural, natural, and historical elements from the region.
Madinah Mayor Fahd bin Muhammad Al-Belaishi said the project aimed to invest in natural and heritage attractions, add proposed elements, and develop existing ones with the aim of transforming the avenue.
"Additionally, the project aims to raise the level of services and infrastructure that are commensurate with the operational requirements and volume of visitors," he said, adding that the project will also work on highlighting historical monuments and sites of importance that the road passes through.
The project would develop the facades of buildings and rehabilitate them in line with the region's identity, the mayor pointed out.
Al-Belaishi said the administration had developed a plan within the project's stages to involve people from the region in the rehabilitation and development of the road in a way that would benefit the population, as well as strengthening the network of public spaces and harnessing public squares in a way that embraced social and cultural activities.
Mount Uhud is one of the most important Islamic landmarks in Madinah which located about four kilometers north of the Prophet's Mosque.
The mount has 1,077 meters high and extending along 7.5 kilometers.
In 3 Hijriah or 625 AD the valley of Mount Uhud became a battleground between the Muslim forces led by the Prophet, ﷺ and the Quraish infidels.
A total of 70 companions of the Prophet ﷺ, including his uncle Hamza bin Abd Almotalib, martyred in the battle and were buried in the valley of Uhud which is known as Sayyid Ash Shuhada Square.
Reporting by Indonesia Window