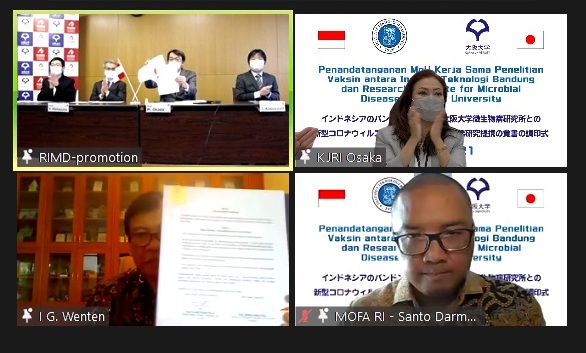 Jakarta (Indonesia Window) – Indonesia's Bandung Institute of Technology (ITB) and the Research Institute for Microbial Diseases (RIMD) at the University of Osaka in Japan have agreed to collaborate on vaccine and virus researches.
The collaboration was confirmed in a memorandum of understanding (MoU) signed by the ITB's Deputy Rector for Research and Innovation, Prof. I Gede Wenten Ph.D, and the Director of RIMD, Prof. Masato Okada, Ph.D on Thursday (March 4).
The virtual signing was witnessed by the Indonesian Consul General in Osaka, Diana Emilla Sari Sutikno; Director of East Asia and the Pacific at the Indonesian Ministry of Foreign Affairs Santo Darmosumarto; Southeast Asia Director Mirza Nurhidayat; and DCM (Deputy Chief of Mission) of the Indonesian Embassy in Tokyo, Tri Purnajaya.
"I hope and am optimistic that ITB and RIMD Osaka University can work together to produce safe, qualified and efficacious vaccines, so that they can make a real contribution to efforts to deal with the COVID-19 pandemic in Indonesia and Japan," Consul General Diana stated in her speech.
Meanwhile, the Director of RIMD stated that the cooperation was the first to be built between Japanese and Indonesian educational institutions in the field of vaccines.
The research collaboration between ITB and RIMD is expected to be the start of a broader collaboration, involving governments, industries, communities and the media.
The cooperation is a follow-up to the agreement between Indonesian President Joko Widodo and Japanese Prime Minister Yoshihide Suga when the latter visited Indonesia in October 2020.
The ITB-RIMD collaboration will focus on joint research aimed at developing new models of vaccine production and analysis.
The ITB team involved in the collaboration consists of researchers with multi-disciplinary backgrounds.
Meanwhile, the RIMD team is led by Prof. Yoshiharu Matsuura, DVM, Ph.D, who is an expert in molecular virology and is currently conducting research on the SARS-CoV-2 virus.
Reporting by Indonesia Window