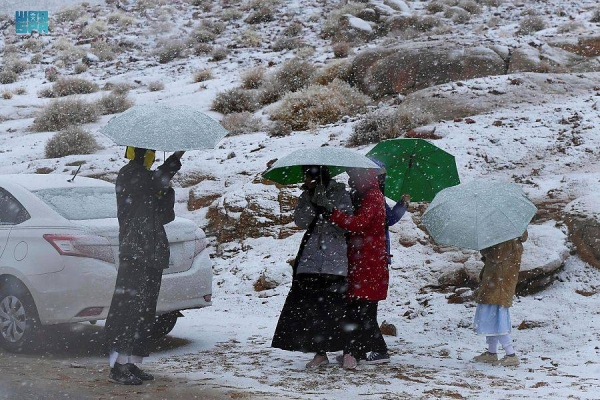 Jakarta (Indonesia Window) – The peak of Jabal al-Lawz in Saudi Arabia was completely covered in white, as the mountains located in Tabuk region witnessed heavy rain and snowfall since the early morning hours on Saturday (Jan. 1).
The charming view of Jabal Al-Lawz received a great turnout from the residents of the region and dazzled families and children with its bright white look, as they enjoyed the snowfall, took pictures and shared them on social media, as the region is considered attractive for tourism.
The photos and videos has gone viral after they were shared on social media, and were widely admired from all over the world, as many were surprised by the stunning snowfall in Saudi Arabia.
According to Al-Ekhbariya channel, the snow will continue to fall on the Kingdom until Sunday, while the National Center of Meteorology (NCM) stated that thunderstorms will experience in some regions of the Kingdom from Friday until Monday.
According to the NCM report, the regions of Riyadh, Makkah, Madinah, Eastern Province, Al-Baha, Asir, Jazan, Al-Qassim, Tabuk, Al-Jouf and Hail will receive moderate to heavy rains.
Jabal Al-Lawz is among a mountain range located in northwest Saudi Arabia near the Jordanian border in the Tabuk region, about 200 kilometers northwest of the city of Tabuk.
It is called Jabal Al-Lawz because of the almond trees in it, where almond is called Lawz in Arabic language.
Source: Saudi Gazette
Reporting by Raihana Radhwa