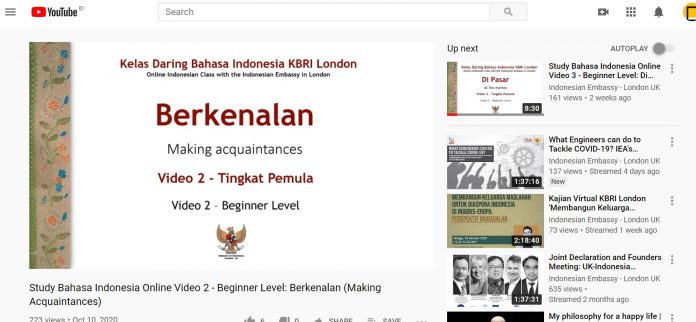 Jakarta (Indonesia Window) – Considering the high interest of foreigners to learn Bahasa Indonesia, the Indonesian Embassy in London has opened an online class via a YouTube account.
A short video about eight minutes long is uploaded every Saturday, according to a statement from the Indonesian Embassy in London received by Indonesia Window here on Monday.
Those who want to learn Indonesian can access the videos anytime and anywhere at https://www.youtube.com/channel/UCz4pL68DU9S44PcvjlC6Lug/videos.
The learners can also interact with tutors by writing down questions in the comment column every Saturday between 13.00 and 14.00 local time.
The tutors will answer the questions at the specified time.
The online class via the YouTube channel has been started on October 3, 2020. So far, four videos of Indonesian language learning for foreign speakers for beginners have been uploaded.
In November 2020, the Indonesian Embassy in London will upload videos containing materials for middle class, while videos for advanced class will be uploaded between the end of November and December 2020.
The online class of Indonesian language for foreign speakers is one of the programs carried out by the Indonesian Embassy in London to support the government's efforts to make Indonesian an international language.
Reporting by Indonesia Window