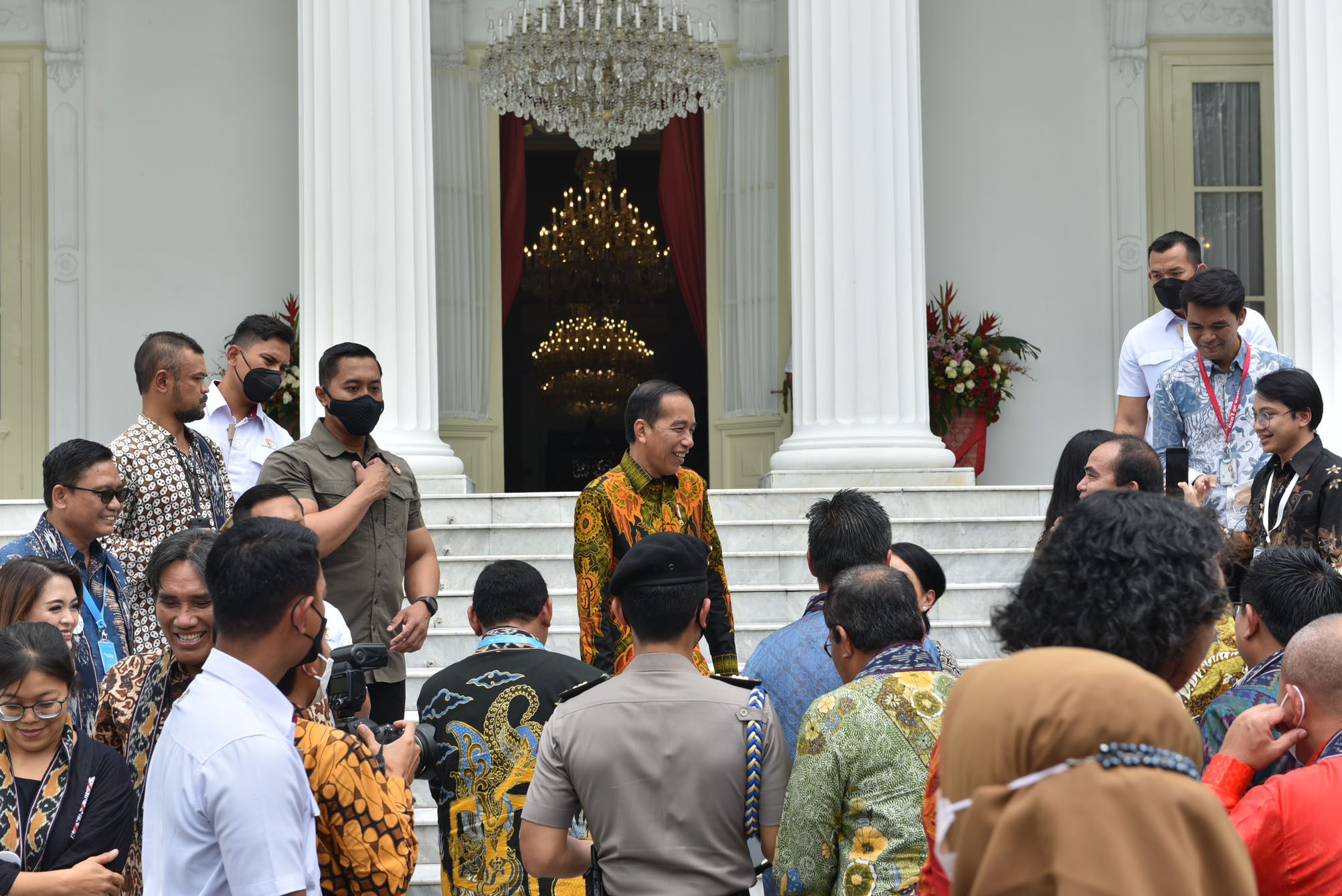 Indonesia has almost everything needed to create an electric vehicle ecosystem and make other countries dependent on the country.
Jakarta (Indonesia Window) – Indonesian President Joko Widodo emphasized that the government is seriously implementing a grand strategy for the country's economy by designing an electric vehicle ecosystem.
According to the president, Indonesia has almost everything needed to create an electric vehicle ecosystem and make other countries dependent on the country.
"How is to build a large ecosystem so that other countries would depend on us because we have nickel, copper, bauxite as well as tin, and our potential is enormous," the president said when delivering his keynote speech at the 2022 Kompas100 CEO Forum, at the State Palace here on Friday.
Kompas is Indonesia's national newspaper based in Jakarta, with a circulation of 507,000 copies.
The head of state gave an example of the success of Taiwan which focuses on developing chips and South Korea which is developing the electronic component industry, making other countries depend on them.
"I keep watching. I see what make them skyrocket. One of them is making digital components so that big companies in America all depend on them, need them," he said.
The president said, Indonesia has great potential to build an electric vehicle ecosystem, especially electric batteries or EV (electric vehicle) batteries because the amount of Indonesia's nickel reserves is the biggest in the world, that of tin is number two, that of bauxite is number six, and that of copper is number seven in the world.
Indonesia alone has enormous potential to build an electric vehicle ecosystem, especially in making electric batteries.
"For building an EV battery ecosystem, we only lack lithium. We don't have it. Yesterday I conveyed this to the prime minister (of Australia), Albanese. Australia has lithium. We can buy it from Australia," the president noted.
"However, it turns out that some of us already have mines there. This is strategic, to make a large ecosystem that we want to build," he said.
The president further said what then becomes a challenge is integrating these materials because of their scattered positions in several different places in Indonesia.
He pointed out that copper is in Papua and Sumbawa (West Nusa Tenggara province), nickel in Sulawesi, and bauxite in West Kalimantan and Riau Islands.
"Integrating these products is not easy. I keep on working very hard to make the expected ecosystem happen because this is what would be a leap frog for us towards another civilization," he said, in the belief that when a large ecosystem of electric vehicles happens, investment would come to Indonesia.
The president said that Indonesia is open to investors as long as they cooperate with the country's private companies and state-owned enterprises so that technology transfer would occur.
"If this happens, I estimate that in (year) 2026, 2027, we will see this leap, (investors) will flock in because the automotive industry in the future, be it electric motorbikes, electric cars, will replace maybe more than 50 percent of the existing market demand," he said.
"This is what we have to catch. I did make calculations yesterday. How much did I count? 60 percent of electric cars and electric vehicles will depend on our EV battery, 60 percent of the world's market share. This is our great strength later," he noted.
In addition, the presence of a large ecosystem of electric vehicles is also expected to boost the state revenue through tax revenues, royalties, dividends, export duties, and non-tax state revenues, the president added.
If the state revenue increases, he continued, the budget for village funds would also increase, he said, adding that by doing so, people in villages would also enjoy the benefits of the electric vehicle ecosystem which is being built by the government.
"The village funds that we have disbursed for six years are already 468 trillion rupiahs, meaning that the money in our villages, the 74,800 villages we have, becomes more and more distributed, and that will increase welfare among our people in the villages. This is what I think is called justice," he said.
Reporting by Indonesia Window