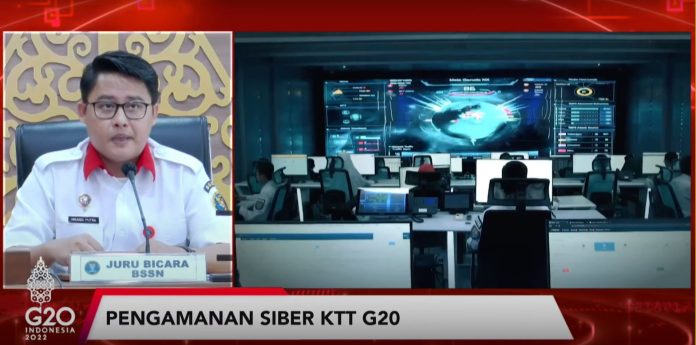 Jakarta (Indonesia Window) – The Indonesian government guarantees cyber security during the G20 Summit, in Bali, Nov. 15-16, an Indonesian official has said.
"Cyber ​​security carried out by the BSSN (National Cyber ​​and Crypto Agency) is not only carried out on the day of the G20 Summit, but also before and after the G20 Summit is held," the BSSN's Spokesperson Ariandi Putra said in a press statement on YouTube channel of the Ministry of Communications and Information's TV, on Wednesday.
The BSSN has carried out cyber security in the context of the G20 Summit since July 2022, Ariandi said, adding that the agency has also identified various potential cyber threats that occurred in Indonesia and the G20 Summit.
"Threats include spear phishing (specific hacks), malicious documents or viruses attached to documents, hijacking, fake wifi and malware operations," Ariandi noted.
In addition, the BSSN also monitors the potential threat of data embezzlement from before the summit until the end of Indonesia's G20 Presidency, he added.
As the leading cyber security sector at the G20 Summit, Ariandi said, the BSSN is tasked with collaborating several cyber security plans with relevant stakeholders, such as the Indonesian military, the Indonesian police, the Coordinating Ministry for Economic Affairs, the Ministry of Communication and Information Technology, the Ministry of Health, the Indonesian Cabinet Secretariat, and a number of other parties.
"We are also working with internet network organizers and EOs (event organizers) that are in charge of this G20 show. This has been done since last July," he said.
Ariandi explained that there are three cluster supports for cyber security, namely, before, during, and after the event, in an effort to maximize and see how the ideal cyber security situation is desired at the G20 Summit on Nov. 15-16.
Prior to the event, Ariandi said, his party had audited the information management system, measured the level of cyber security, and monitored traffic anomalies and potential cyber threats.
"During the event, we will monitor traffic anomalies, monitor incident information, secure signals and counter sensing, as well as carry out digital forensics," he said.
After the event, the BSSN will identify cybersecurity vulnerabilities and potential data disclosure threats as well as conduct digital forensics and incident response.
"These are the steps we are taking so that the G20 Summit can be carried out properly," he said.
Reporting by Indonesia Window