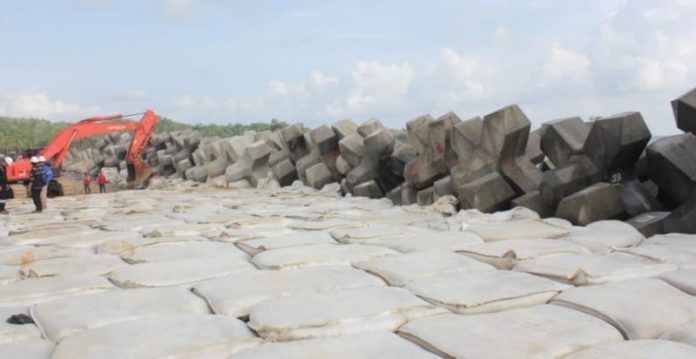 Jakarta (Indonesia Window) – The Center for Port Infrastructure Technology and Coastal Dynamics at the Indonesian National Research and Innovation Agency (BRIN) has developed a sea breakwater called BPPT-lock to protect coastal areas from abrasion.
BPPT-lock has been installed in the Steam Power Plant (PLTU) area in Pacitan district, East Java province, according to the head of the center, Widjo Kongko, on Monday (Nov. 8).
Meanwhile, other BPPT-locks are under construction at the Sanur seaport in Bali, and at the Tuban TPPI (Trans-Pacific Petrochemical Indotama) refinery area in East Java province.
BPPT-lock is a form of layered unit to protect such infrastructures as ports, tourist attractions, and settlements, in coastal areas.
BPPT-lock has superior hydraulic stability and strong structure, with easy installation because it can be installed regularly and randomly.
In addition, the need for concrete materials to build BPPT-lock is less than other protective layer units as the number of units per unit area of ​​the structure is less with smaller dimension.
The BPPT-lock is installed in a protected layer unit at the beach or port with a unit weight that is adjusted to the design wave. Due to its weight and jointly interlocking, BPPT-lock is able to withstand or break wave energy.
Widjo explained that the installation of BPPT-lock on beaches or ports needs to be preceded by detailed studies, including hydro-oceanographic surveys, bathymetric surveys, site plan investigation, and harbor or coastal protection designs.
Reporting by Indonesia Window