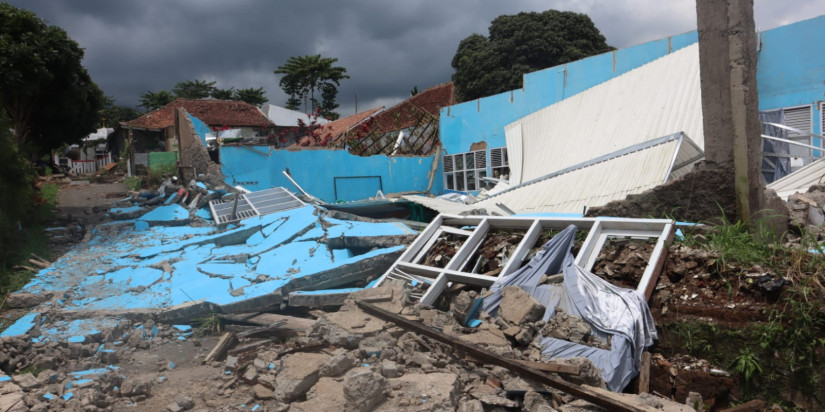 The death toll from Cianjur earthquake rose to 310, with the number of missing people totaling 24, and the combined SAR team from various elements continued to carry out search and rescue operations.
Jakarta (Indonesia Window) – The death toll from the Cianjur earthquake has increased to 310 people, with the number of missing people totaling 24, Head of Indonesia's National Agency for Disaster Countermeasure (BNPB), Suharyanto, said in Cianjur, West Java, Friday.
"With this disaster, all people in Cugenang sub district or even in Cianjur district or from outside the district are asked to immediately report if any of their members have not been found yet," Suharyanto said.
According to Suharyanto, eight bodies were found today with their identities, both names and addresses, so that the results of the search and rescue operations carried out by the combined SAR team as of today found the bodies of 17 people, bringing the current number of dead to 310 and the number of missing people totaling 24 with clear identities.
"The material losses remain the same as yesterday's data. The joint team is still working in the field to evaluate houses that are heavily damaged, moderately damaged and slightly damaged. However, the number is still fluctuating," the head of BNPB said.
Suharyanto said there are more infrastructure damages, including 363 school buildings, 144 places of worship, three health facilities, and 16 office buildings.
"Today's logistics distribution has been going well and there are several organizations that distributed logistics directly to the affected people with police escort to avoid being intercepted by persons asking for goods or money," he said.
As of today, the joint team has also noted more evacuation points, he said, adding that there are 110 evacuation points that have been surveyed, including those at centralized shelters that accommodate up to 500 people and those that hold five to 10 evacuees in 15 sub districts, Cianjur district.
"This measure requires extra strategy, power and strength in logistics distribution. Hopefully, it would get better and all the people of Cianjur district, totaling more than 60,000 refugees, can all be served," he said.
The joint team has also recorded the names and ages of the refugees, including 650 pregnant women, 34 persons with disabilities, 21,071 female refugees.
"However, the data would continue to grow. And this is not the final because we are still collecting data," Suharyanto added.
Reporting by Indonesia Window