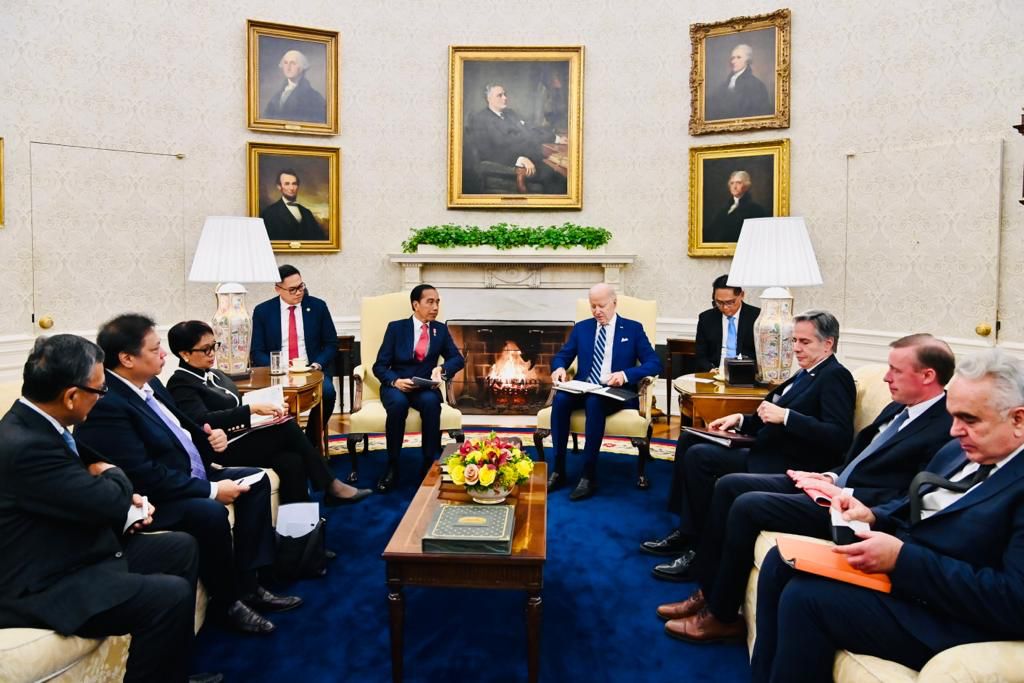 Chairman of Freeport McMoRan Richard Adkerson has met Indonesian President Joko Widodo to discuss the increase in Freeport shares in Indonesia and extension of the mining permit which has reached the final stage.
Jakarta (Indonesia Window) – Indonesian President Joko Widodo received the Chairman of Freeport McMoRan, Richard Adkerson, at the Waldorf Astoria Hotel, Washington DC, the United States (US) on Monday (Nov. 13).
During the meeting, President Widodo welcomed the discussion regarding increasing Freeport shares in Indonesia and extending the mining permit which has reached the final stage.
"I am happy to hear that discussions about adding 10 percent of Freeport's shares in Indonesia and extending the mining permit for 20 years have reached the final stage," President Widodo told Richard Adkerson.
The Indonesian president also expressed hope that this matter can be resolved by the end of November this year, the Indonesian Cabinet Secretariat noted in a written statement quoted by Indonesia Window on Wednesday.
In a separate statement after the meeting, Indonesian Coordinating Minister for Maritime Affairs and Investment Ad Interim Erick Thohir assessed that currently relations between Indonesia and the U.S. continue to improve, especially in the field of trade.
"If we see that our trade surplus with the United States has reached almost 16 billion U.S. dollars, and the growth in the last few years has been fast. American investment in Indonesia is number four now, which has never happened before," Erick said.
According to Erick, this was the basis for President Widodo to continue to encourage U.S. investment in Indonesia, one of which was from Freeport McMoRan.
"What happens is that our BUMN (state-owned enterprises) already controls 51 percent," he continued.
Erick further said that in the meeting between President Widodo and the CEO of Freeport McMoRan, the downstreaming activity carried out by Freeport was also discussed.
Erick said that currently Freeport is not only carrying out gold and copper mining activities, but has also built a smelter to process it.
"This is an investment that we are down streaming, which previously was just pure gold and copper mining, now we have started to scale it down to industrialization by opening a smelter in Surabaya (East Java province)," he added.
Erick also said that during the meeting Freeport appeared to show its commitment to building other smelters in other locations in Indonesia, including in Fakfak district West Papua province.
Erick also assessed that a number of things presented and discussed at the meeting were very good for increasing investment which would have an impact on improving the welfare of the Indonesian people.
"These things that were conveyed earlier are very positive for us to continue to increase investment from abroad to open up job opportunities in Indonesia ias envisioned by the President," he said.
Also accompanying the president at the meeting were Coordinating Minister for Maritime Affairs and Fisheries Ad Interim Erick Thohir, Coordinating Minister for Economic Affairs Airlangga Hartarto, Minister of Foreign Affairs (Menlu) Retno LP Marsudi, Minister of Energy and Mineral Resources (ESDM) Arifin Tasrif, and Indonesian Ambassador to the US Rosan Roeslani  .
Also present at the meeting was the President Director of PT Freeport Indonesia, Tony Wenas.
Reporting by Indonesia Window