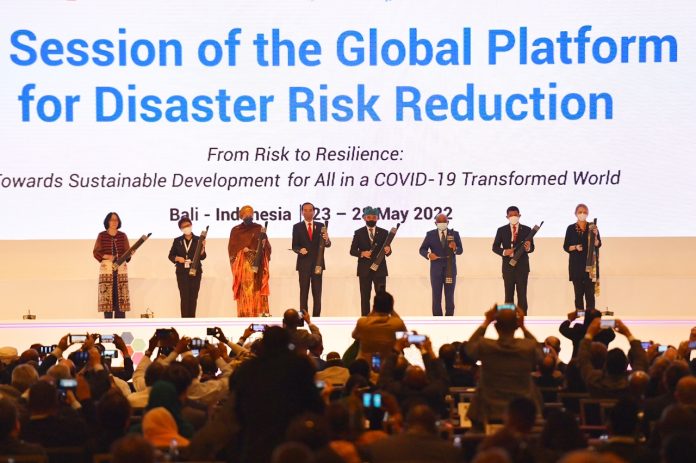 Jakarta (Indonesia Window) – Indonesia has offered four concepts of resilience in sustainable disaster risk management at the 2022 Global Platform for Disaster Risk Reduction (GPDRR) forum.
"First, we must strengthen the culture and institutions of disaster preparedness that are anticipatory, responsive and adaptive in dealing with disasters," Indonesian President Joko Widodo said in his remarks before opening the seventh GPDRR 2022 forum in Nusa Dua, Bali, on Wednesday.
According to the head of state, disaster-safe education as well as synergistic governmental and social institutions, as well as disaster response must be a shared priority globally and locally.
"The second concept is that every country must invest in science, technology and innovation, including ensuring access to funding and technology transfer," he said.
The president said that access to funding is an important issue that must be taken seriously. Indonesia developed a disaster insurance and funding strategy by establishing a disaster pooling fund.
Indonesia also has a program to use development funds at the village level through village funds, to support measures on the optimal mitigation and preparedness.
The third concept is to build infrastructure that is resilient to disasters and climate change, the president said, adding that apart from mitigation through the construction of physical infrastructure such as dams, breakwaters, reservoirs and embankments, green infrastructure is also important.
Green infrastructure is obtained by conserving mangroves, pine shrimp on the coast and anti-landslide plants such as vetiver (Vetiveira zizanioides L or Andropogon murica).
Indonesia also promotes the development of green open spaces, which should be part of the priority of infrastructure developments.
According to the head of state, the protection of vulnerable groups living in high-risk areas must receive serious attention.
Meanwhile, the fourth concept presented by the president is a shared commitment to implement global agreements at the national level to the local level.
The Sendai Framework for Disaster Risk Reduction 2015-2030, the Paris Agreement, and the Sustainable Development Goals (SDGs), which are international agreements on efforts to reduce disaster risk and climate change.
The president emphasized the importance of commitment and seriousness in implementing these agreements as disaster risk reduction is an effective investment to prevent future losses.
Indonesia has been committed to implementing all of those agreements.
"Indonesia is also ready to share experiences and knowledges in disaster mitigation. As a disaster-prone country, Indonesia has accumulated knowledges and experiences that can be important lessons for the world. However, Indonesia is also eager to learn from international experiences," said the Indonesian President.
Reporting by Indonesia Window