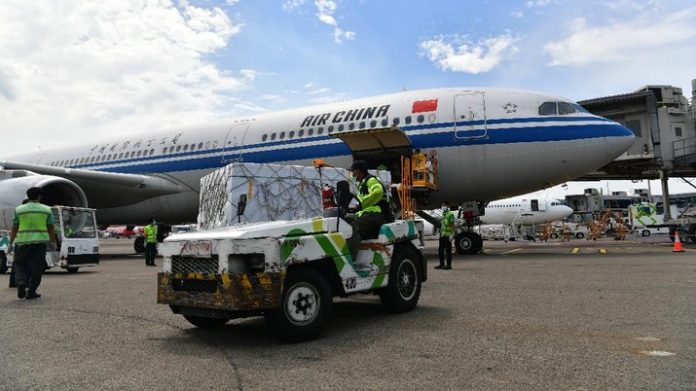 Jakarta (Indonesia Window) – Indonesia received about 9.5 million doses of ready-to-use COVID-19 vaccine in three batches via Soekarno-Hatta International Airport in Tangerang district, Banten province, on Sunday (Sep. 12) and Monday (Sep. 13).
"In the last two days, Indonesia has received additional 9.5 million doses of vaccine. Thus, the number of vaccines that have arrived in Indonesia so far has been more than 240 million doses, both in bulk and ready-to-use products," Siti Nadia Tarmizi, a spokesperson for COVID-19 vaccination of the Indonesian Ministry of Health, said in a press statement received here on Monday.
She noted that all the vaccine from China's Sinovac have arrived in Indonesia through 58th, 59th and 60th deliveries.
In the 58th stage, a total of 2,296,960 doses of Sinovac vaccine in ready-to-use form arrived in the country on Sunday (Sep. 12). This vaccine was obtained through the COVAX Facility, a global initiative that works with governments and manufacturers to ensure COVID-19 vaccines are available worldwide, both for high and low income countries.
Furthermore, on Monday (Sep. 13), Indonesia received the 59th and 60th shipments of ready-to-use vaccine from the same manufacturer.
In the 59th stage, as many as 5 million doses of vaccine were shipped by Garuda Indonesia. Meanwhile, in the 60th stage, 2,295,680 doses of vaccine were obtained through the cooperation with the COVAX Facility, Nadia explained.
According to her, the Indonesian government continues to make efforts to bring in vaccines through various schemes, namely multilateral and bilateral basis as well as direct purchases.
As of Sunday (Sep. 12), the Indonesian state-owned vaccine manufacturer Bio Farma has distributed 154,244,078 doses of vaccines throughout the country.
Meanwhile, in September 2021, it was recorded that 24.3 million doses of vaccines were distributed, excluding the ones administered under the Gotong Royong private vaccination program, and Pfizer vaccine.
Nadia hoped that people would get vaccine jabs soon and not choose certain brands because all COVID-19 vaccines used in Indonesia have been proven to be safe and efficacious.
Reporting by Indonesia Window