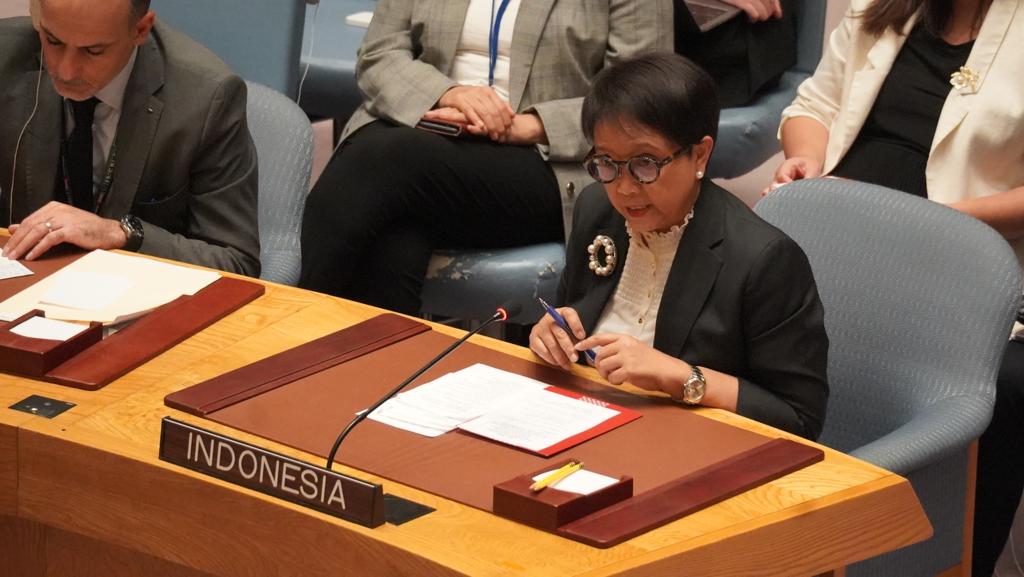 The UN Security Council should not stay silent witnessing disasters and crimes against humanity that has been happening in Palestine.
Jakarta (Indonesia Window) – Indonesia has urged the UN Security Council to act immediately to stop the escalation of conflict between Israel and Palestine in Gaza and resolve the current humanitarian crisis.
Every wasted second without any real action from urged the UN Security Council has terrible impact for the Palestinian in Gaza, and thus Indonesia strongly condemns Israel's continuing aggression towards civilians in Gaza, Indonesia's Foreign Affairs Minister Retno Marsudi said during the UNSC High-Level Open Debate regarding the situation in the Middle East, that was held in New York, October 24, 2023.
"I just want to remind the Council that you have a big responsibility to maintain peace and security, not to prolong war, not to back up any side to continue the war," the Indonesian Foreign Affairs Ministry quoted the minister as saying on Wednesday (Oct. 25).
The foreign minister further said that the UN Security Council should not stay silent witnessing disasters and crimes against humanity that has been happening in Palestine.
Attacks on hospitals and places of worship, blockade of electricity, water and fuel as well as expulsion of Gaza residents are carried out by Israel in the name of collective punishment. At the same time, civilians are being held hostage and their lives are in critical danger.
"I came here to ask the Council. How are you going to exercise your responsibility? When are you going to stop the war in Gaza? Create ceasefire, open access for humanitarian assistance, call for the immediate release of civilians, stop the illegal occupation of Israel?" the minister asked.
She added that every wasted second due to political differences and failing to reach a consensus are losses for humanity and worsens instability.
"How many more lives should perish before the Council make a move?" she asked.
Retno emphasized that Indonesia is not wasting any time in mobilizing international support for immediate action to be taken. Through OIC, ASEAN, and ASEAN-GCC meeting, D8, Indonesia encourage in urging the cessation of violence and focus on humanitarian crisis.
Indonesia urged three things to be done immediately, namely:
First, a united call for an immediate ceasefire.
"Silence is harrowing against the deafening sound of bullets and rockets. Outright supports for one side have so far led to further disproportionate use of force, violations of international humanitarian law, and impunity. It is our collective obligation to end the cycle of violence before it escalates into a regional and global calamity," she said.
Second, prioritization of humanitarian access.
"More than two million people in Gaza are hanging on to their lives for basic humanitarian needs. Convoys of aid delivery are mostly being held immobilized and in constant danger from crossfire. The Security Council must urge immediately for safe and unimpeded passage of humanitarian access and respect towards humanitarian law," she added.
Third, bring back humanity to the Security Council.
"Please use your great power to be more human. The Palestinians deserves equal rights and treatments. We are all human beings. We all deserve to have homes. We must reject the displacement of Palestinians. We must not let the 1948 tragedy reoccur," she asserted.
"The Security Council holds great power, and with great power comes great responsibility to address the current situation in Gaza, to address the root cause, and ensure a path to two state solution," the minister stated.
Reporting by Indonesia Window