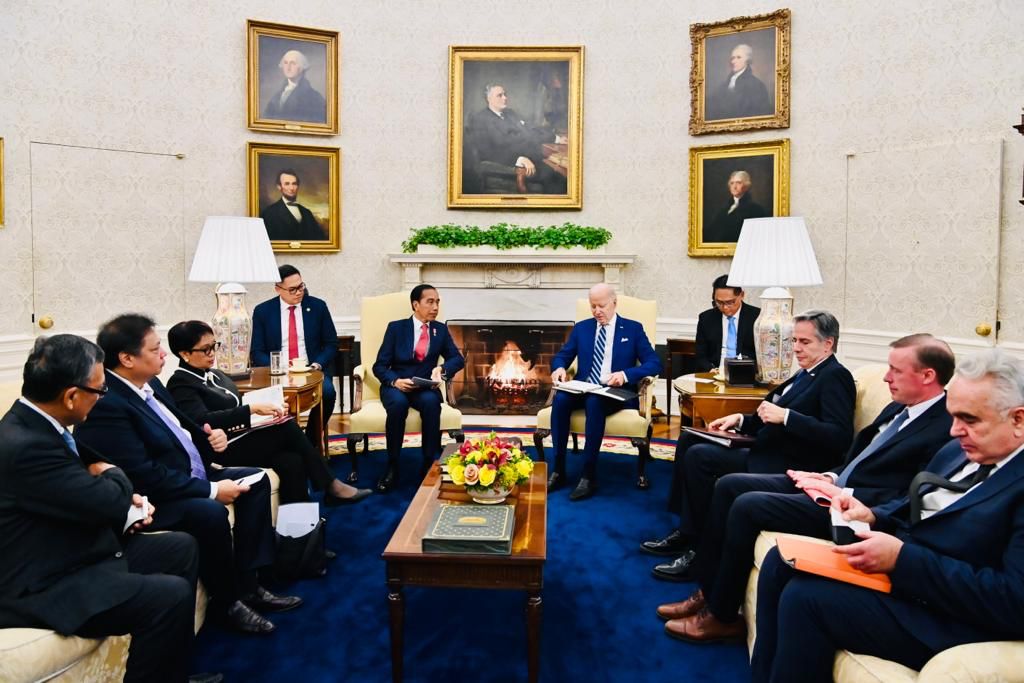 The partnership between Indonesia and the United States has to become a Comprehensive Strategic Partnership (CSP), as agreed by the two leaders.
Jakarta (Indonesia Window) – Indonesian President Joko Widodo hoped that the partnership between his country and the United States (U.S.) could contribute to the global peace.
The Indonesian president expressed the hope in a meeting with his U.S. counterpart Joe Biden at the White House, Washington DC, the United States, on Monday (November 13), according to the Indonesian Cabinet Secretariat in its written statement on Tuesday.
"Indonesia hopes that our partnership can contribute to regional and global peace and prosperity," President Widodo told President Biden.
The Indonesian president also invited President Biden to help stop the conflict and atrocities occurring in Gaza.
"This is a very painful thing for humanity," he added.
Previously, the Indonesian head of state said that the United States is one of the most important partners for Indonesia. Therefore, the two leaders agreed to upgrade the partnership between the two countries to become a Comprehensive Strategic Partnership (CSP).
"The most important thing is that we have to make a concrete action of the partnership, because for Indonesia economic cooperation is our priority, including in supply chain issues," he noted.
On that occasion, President Biden said that the cooperation between Indonesia and the United States has escalated into a comprehensive strategic partnership, marking a new era of cooperation between the two countries in various fields.
"This includes increasing our cooperation on security matters," he said, adding that other things of concern that need to be continuously improved between the two countries are in terms of building a safe supply chain and overcoming the climate crisis.
"This includes expanding our cooperation in building secure supply chains. This also includes our deeper collaboration to tackle the climate crisis," said Biden, considering that Indonesia plays an important role in the clean energy transition.
President Biden is also committed to continuing to increase cooperation between the United States and ASEAN (the Association of Southeast Asia Nations) to advance a free, open and prosperous Indo-Pacific region.
Furthermore, on the meeting, he expressed appreciation for Indonesia's ASEAN chairmanship this year.
"I would like to thank you for your chairmanship in ASEAN this year," he said.
Reporting by Indonesia Window