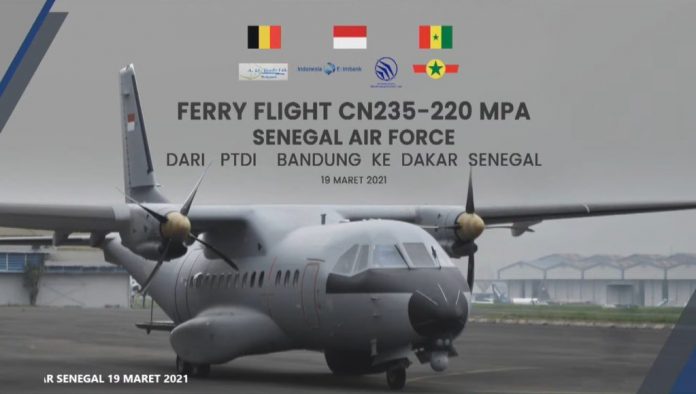 Jakarta (Indonesia Window) – The Indonesian aerospace company, PT Dirgantara Indonesia (PT DI), exported one unit of CN235-220 Maritime Patrol Aircraft (MPA) worth 354 billion rupiahs (some 24.5 million U.S. dollars) for the Senegalese Air Force on Friday (March 19).
"Thank God, during this situation PT DI succeeded in making its first export in early 2021. With the handover of the third CN235 aircraft, we hope it can help improve the performance of the Senegal Air Force in every air operation," said PT DI's President Director Elfien Goentoro.
"We are proud of the trust that the Senegalese government has given to PT DI so far," he added.
The CN235-220 MPA aircraft has several advantages, including being able to take off over a short distance with unpaved and grassy runways; able to fly for eight hours with an avionic glass cockpit system, autopilot; and having winglets on the wingtips to make the aircraft more stable and fuel-consuming efficient.
The aircraft is also equipped with a Tactical Console (TACCO), 360-degree Search Radar which can detect targets up to 200 NM (Nautical Mile) in size; and Automatic Identification System (AIS), which is an automatic tracking system to identify ships to get the position of suspicious objects.
CN235-220 MPA also has Forward Looking Infra-Red (FLIR) to detect and classify targets; and is able to record situations around the flying area for mission evaluation, both in day and night conditions.
To date, the Indonesian aerospace company has succeeded in producing and delivering 69 CN235 aircrafts to fulfill orders from within the country and abroad.
Currently, PT DI is the only aircraft manufacturing industry in the world that produces CN235 aircraft.
The export project to Senegal is one of the company's strategic steps to enter South Asian and African countries markets.
Reporting by Indonesia Window