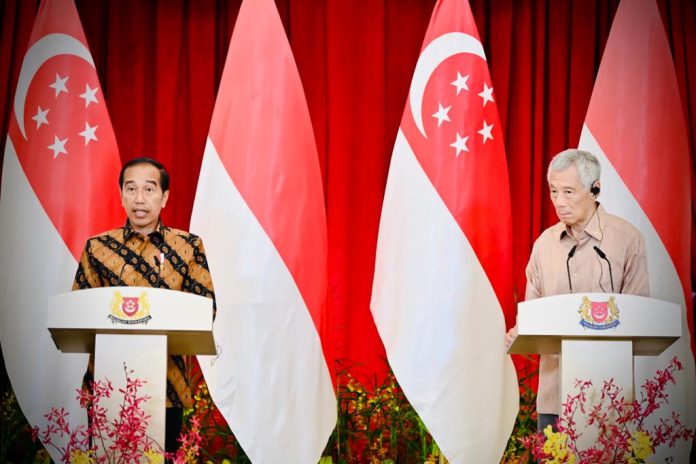 Singaporean investors are looking forward to an investor forum in Indonesia related to things offered in the development of Indonesia's prospective national capital, which is located in the province of East Kalimantan.
Jakarta (Indonesia Window) – Indonesian President Joko Widodo has said that he welcomed the interest of Singaporean investors to participate in the development of the prospective national capital city (locally known as IKN).
President Joko Widodo made the remarks in a joint press statement with Singapore Prime Minister (PM) Lee Hsien Loong, Thursday after the Leaders' Retreat, in the neighboring country.
"I welcome some of the results of the Leaders' Retreat. The first is the great interest of Singaporean investors in the development of the prospective national capital city (IKN)," the president noted.
According to the head of state, from the meeting there were 20 Singaporean private companies that have submitted letters of intent (LoI) to invest in the development of IKN.
"In this meeting there have been 20 letters of intent of the Singaporean private sector for investment in IKN," said the president.
On the same occasion, Singapore's Prime Minister Lee Hsien Loong expressed his support for the development of IKN and President Joko Widodo's vision to realize IKN as a smart city and a green city.
PM Lee said Singapore is happy to support the President's vision. Singapore will contribute through knowledge sharing and join in RND (research and development) activities.
Singapore's prime minister said that one of the memorandums of understanding produced at the meeting of the two leaders included cooperation in capacity building, knowledge sharing and research to support the planning and development of IKN as a smart and sustainable city.
Apart from expressing interest from Singaporean business actors in the development of IKN, he said that his party would encourage business actors in his country to attend the IKN investor forum which will be held in May.
The prime minister told President Widodo that his party is looking forward to the investor forum planned for May to show investors what IKN would offer and to interest them in the development.
Lee further said that he will encourage Singaporean entrepreneurs and companies to participate in this forum.
Reporting by Indonesia Window