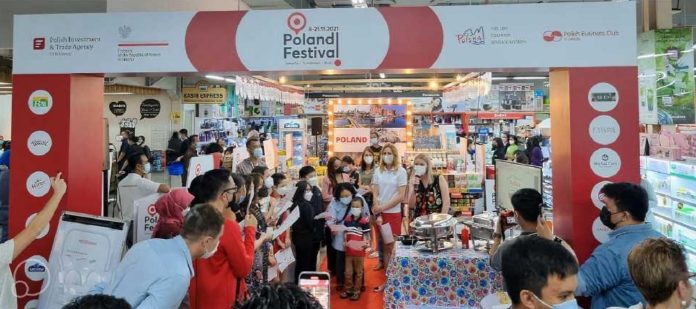 Jakarta (Indonesia Window) – Poland Festival is being held by the Polish Embassy in Jakarta together with the Polish Investment and Trade Agency in the capital city to bring closer Polish culture and economy to Indonesia, Poland's Ambassador to Indonesia Beata Stoczyńska has said.
"One of the best known similarities between Poland and Indonesia is that we share the same colors of our flag. My personal experience as an Ambassador in Jakarta is that we have much more in common e.g. similar vibrant, dynamic and innovative societies," the ambassador said in a written statement received here on Monday.
Meanwhile, according to Jacek Kołomyjec, Head of the Polish Investment and Trade Agency in Jakarta, Poland is one of the largest countries in Central Europe, and we have a lot to offer in various aspects, also to Indonesia, one of the leaders in Southeast Asia.
"There is huge potential in trade and investment, and we are looking forward to it," Jacek Kołomyjec said.
The Poland Festival, which is the largest, most engaging and outstanding promotion campaign of Poland in Indonesia and entire ASEAN region, intends to promote Polish culture and Polish products, including foods, beverages, cosmetics, and in this year also cutting-edge railway technologies.
Poland Festival is being held in four cities – capital Jakarta, Bandung in West Java province, Surabaya in East Java province, and Sanur in Bali province from Oct. 17 to Nov. 6, 2022.
Poland Festival (PF2022) will feature 18 FMCG (Fast Moving Consumer Goods) Polish brands – foods, beverages and cosmetic products, which will be displayed and available for purchase at 10 participating supermarkets in Indonesia, including the Grand Lucky and Hokky stores.
Additionally, the festival is showcasing recent developments from more than 10 technological and rail industry companies focusing on green and hydrogen energy.
From Oct. 19 to 21, visitors visited the Railwaytech Indonesia National Rail Pavilion and took part in a conference at the JIExpo (Jakarta International Expo) in Kemayoran, North Jakarta, to see the technological developments of the railway industry in Poland.
The festival is featuring three exhibitions of batik, design, photography, games, quizzes, giveaways, flash courses, food tastings and promos.
The opening of the Polish Contemporary Textile Art and Batik Exhibition at the Indonesian National Museum in Central Jakarta, marking the opening of the Poland Festival 2022, started on Oct. 3 and is open to visitors throughout the month.
Moreover, from Oct. 17 to 31 October, Tourism Photo Exhibition showing sceneries and skylines of Poland, captured in photography, is open to visitors at the Bursa Efek Indonesia building.
During last year's Poland Festival 2021, motion capture systems at the Grand Lucky and Hokky supermarkets recorded that the event attracted over 168,000 visitors.
Based on sales data provided by stores and participating importers, during two weeks of November 2021, sales recorded growth between 70 percent to 400 percent (comparing to the best months in the past).
It shows that the festival is a big success increasing public awareness of Poland's culture, language, tourism and Polish FMCG brands recognition.
Reporting by Indonesia Window