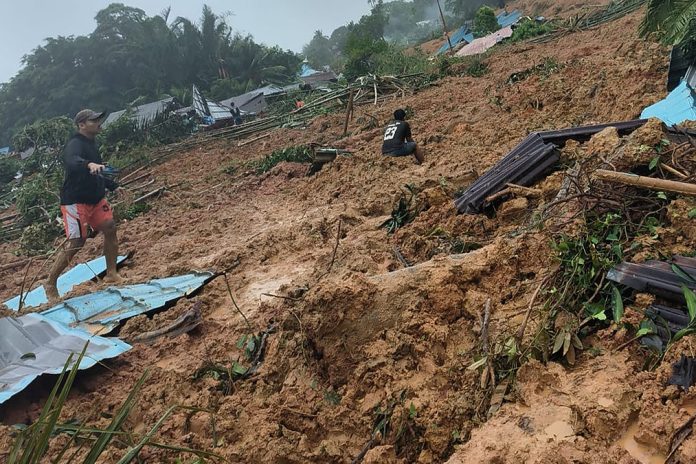 Landslides in Indonesia's Natuna Island were triggered by high rainfall intensity and unstable soil conditions, as reported by the Center for Control and Operations of the National Agency for Disaster Countermeasure (BNPB).
Jakarta (Indonesia Window) – At least 10 people were reported dead after being affected by landslides that occurred in Serasan sub-district, Natuna distric, Riau Islands province, on Monday (March 6).
Based on a report compiled by the Center for Control and Operations of the National Agency for Disaster Countermeasure (BNPB) on Monday afternoon, the landslides were triggered by high intensity rainfall and unstable soil conditions, Acting Head of the BNPB Disaster Data, Information and Communication Center, Abdul Muhari, said in his written statement quoted by Indonesia Window on Tuesday.
Meanwhile, the Head of the Emergency Sector of the Regional Disaster Management Agency (BPBD) in Riau Islands province, Junainah, reported that the data on the death toll still has the potential to change, because until now the evacuation process is still ongoing.
"It's just an estimate. It is possible that the data may change. The latest information was that there were already 10 body bags filled," Junainah noted.
Junainah added that weather conditions, difficulty of access, coupled with cut telecommunications networks, also hampered the search and rescue process.
The difficulty of access and network factors also hampered the team in reporting data so that updating of data could not be carried out optimally, she explained.
"The weather is changing. The wind is still strong. The waves are high. The location is on a different island from the center of the Natuna district administration. The Provincial BPBD remains on standby," Junainah said.
"Right now we are still evacuating. All elements BPBD, the National Search and Rescue Agency (Basarnas), the military, the police and volunteers are still in the evacuation process. The network has been cut off until the latest report," Junainah added.
As reported by the Head of the emergency and logistics sector of the Riau Islands province's BPBD, the BNPB's Disaster Information and Communication Data Center has contacted the Natuna district's BPBD several times, but have not been able to connect.
Data and further information on the landslides in Indonesia's Natuna Island will be provided periodically.
Reporting by Indonesia Window