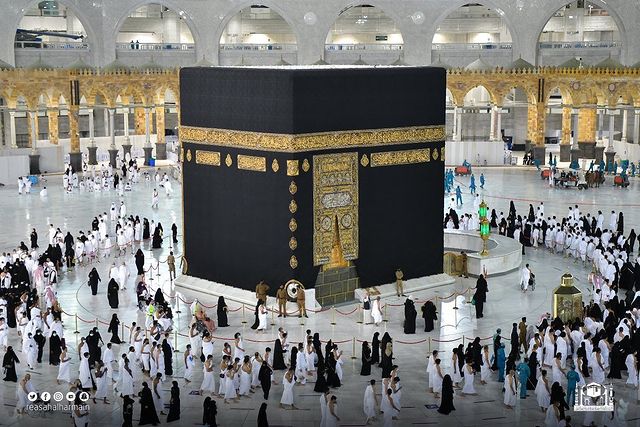 Jakarta (Indonesia Window) – The Custodian of the Two Holy Mosques King Salman has issued orders to allow worshipers other than umrah (the minor hajj) pilgrims to perform tawaf (طواف) or circumambulation around the holy Kaaba effective from Thursday, November 25.
A new icon titled 'Tawaf' has been added on the Eatmarna application to facilitate booking appointment for the performance of tawaf for non-umrah performers, spokesman of the General Presidency for the Affairs of the Two Holy Mosques Hani Haider announced, Saudi Gazette reported.
He said that the first floor of the Grand Mosque in Makkah has been set aside to perform tawaf for non-umrah pilgrims with three time slots.
"The presidency, in cooperation with the other concerned agencies at the Grand Mosque, has completed preparations to receive worshipers wishing to perform tawaf on the first floor of the Grand Mosque during three periods: from 7.00 to 10.00 in the morning; from 9.00 to 11.59 in the night; and from 12.00 to 3.00 in the early morning," he said.
Haider added that all services would be rendered to the worshipers including distribution of Zamzam water, continuous sterilization, and facilitating the entry and exit to the first floor of the Grand Mosque.
The Ministry of Hajj and Umrah announced that non-umrah performers can book appointment for tawaf through the service that was launched on the updated Eatmarna application effective from Thursday.
Haider said that the full capacity of the first floor of the mataf (circumambulating area around the Holy Kaaba) will be used with ensuring the smooth flow of movement and the application of precautionary measures against coronavirus.
The new measure is in line with implementing the recent directive of King Salman to allow using the full capacity of the Grand Mosque for pilgrims and worshipers. They are required to wear masks at all times when they are within the Grand Mosque and its courtyards.
Reporting by Indonesia Window