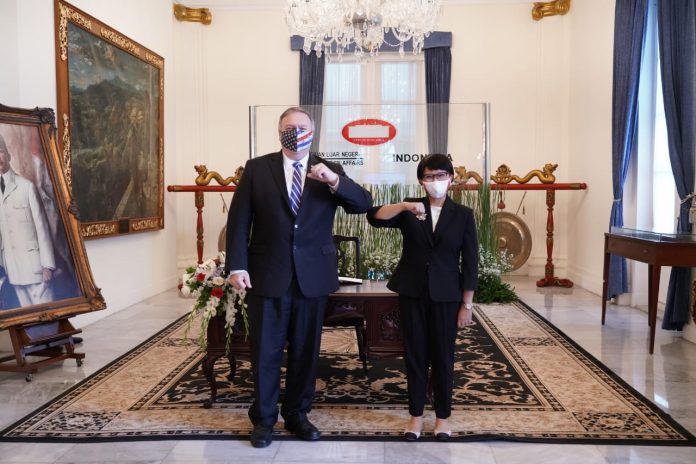 Jakarta (Indonesia Window) – The issue of security in the region and multilateralism became one of the topics at the meeting between Indonesian Foreign Minister Retno Marsudi and her U.S. counterpart, Michael R Pompeo, in Jakarta on Thursday.
"I raise the importance of strengthening multilateralism that brings benefits to all countries," the Indonesian Foreign Minister said in a press statement.
During the meeting Retno mentioned the commitment of Indonesia and ASEAN in maintaining peace, stability and prosperity in the region, which was clearly reflected in the Statement of the ASEAN Foreign Minister on August 8, 2020.
"For more than 50 years, ASEAN have played a very significant role in maintaining peace and stability in the region," she said, stressing that ASEAN was also committed to promoting Indo-Pacific cooperation that was open, inclusive, transparent and rules-based.
"I shared a number of activities we are pursuing in developing a platform to promote dialogues and cooperation under the ASEAN Outlook on the Indo-Pacific," Retno said.
In addition, the two FMs also discussed the Palestinian issue.
"I mentioned that this issue is close to the heart of Indonesian people. I reiterated Indonesian position of the issue including the principle of the two-state solution," Minister Retno said.
The two foreign ministers also agreed to strengthen cooperation in United Nations peacekeeping operations, including the empowerment of female peacekeepers.
"As a reflection of our commitment to peacekeeping operations, I give one example that Indonesia is ready to maintain its naval vessels in Lebanon for another six months," Retno pointed out.
Indonesia and the U.S. also discussed collaboration in Afghanistan.
The Indonesian Foreign Minister said that Indonesia appreciated the U.S. leadership in bringing peace to Afghanistan, and Indonesia was ready to contribute more, especially on issues related to women empowerment.
Pompeo's visit to Indonesia is part of a series of his trip on October 25-30, 2020, to four countries, including India, Sri Lanka and Maldives.
Reporting by Indonesia Window