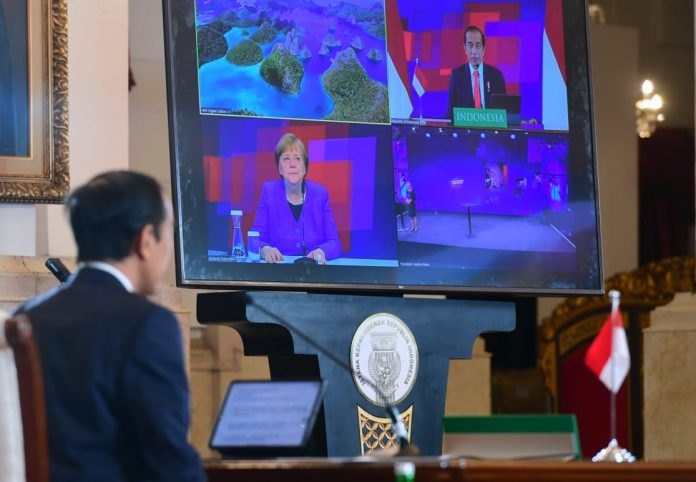 Jakarta (Indonesia Window) – German Chancellor Angela Merkel has expressed her hope that the Hannover Messe 2021 exhibition would have an impact on improving the economies of Germany and Indonesia.
"I hope for Indonesia and Germany, that this exhibition could contribute to strengthening the economies and development of the two countries," she said when giving a speech at the opening of the Hannover Messe 2021: Digital Edition, virtually on Monday (Apr. 12).
At the Hannover Messe which is held in digital format, Indonesia acts as the official partner country, making it the only ASEAN country to receive this honor.
Chancellor Merkel pointed out that in 2022 Indonesia will host the G20 Summit, along with Germany as the host of the G7 Summit. According to her, this will create more strategic cooperation opportunities for the two countries.
Merkel emphasized that Indonesia is a strong partner country for Germany. Partnership with Indonesia in organizing international exhibitions, not only at the Hannover Messe, but also other events, such as the Berlin international tourism exhibition.
"For us, Indonesia is a dream destination. That is one of the reasons Indonesia has been a partner country in international tourism exhibitions," she said.
Merkel added that Indonesia is not only known as a tourism destination, but also the right country for innovation developments, technological transformations, and vocational educations.
Therefore, she welcomed the invitation of Indonesian President Joko Widodo to partner in carrying out digital transformation in the archipelagic country.
Indonesia's participation in the 2021 Hannover Messe is in line with the strategic initiative of the national industry roadmap 'Making Indonesia 4.0' which was launched on April 4 2018.
At the Hannover Messe which is held on April 12-16, 2021, Indonesia presented 156 ministries and institutions, state-owned enterprises, universities, and national private companies.
Reporting by Indonesia Window