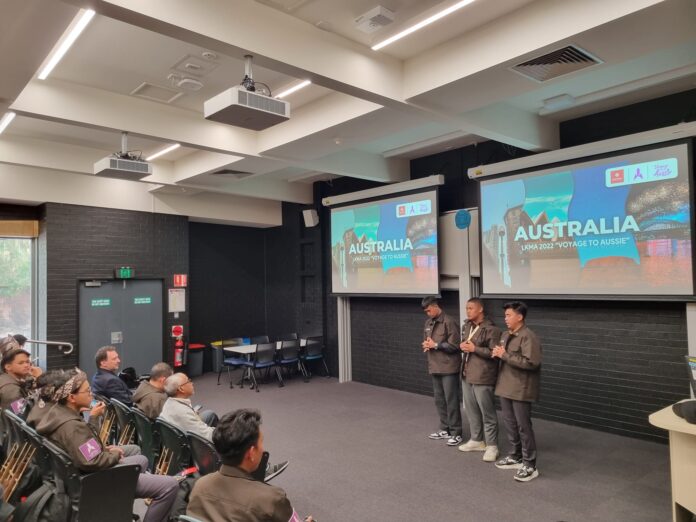 LKMA 2022 Insantama under its motto 'VOYAGE TO AUSSIE' recently conducted a comparative study to Australia in an effort to explore leadership knowledge to create people capable of developing human and natural resources in their country, Indonesia.
Indonesia is a country which is rich in natural resources, but this potential has not been managed optimally, so there are still various problems in this biggest archipelago in the world.
As the global competition is getting tougher, the country has to prepare a generation that is able to face this condition, including fulfilling ten future demands which are still very relevant today.
These demands are focusing on speed and responsive behaviors, paying attention to innovative creativities, creating competitive atmospheres, having leadership, controlling by visions and values, sharing information, acting proactively and being entrepreneurial, creating future markets, being interdependent, and caring about environmental issues.
Indonesia needs the best leadership model to meet its demands and solve problems, namely the transformational leadership model which is recognized by the theory of Sarros and Butchatsky (1996) as a breakthrough leadership model.
There are seven important requirements that should be possessed to achieve this leadership model, namely, worldview/way of life, personal values, motivation, knowledge of industry and organization, strong relationships, leadership managerial skills, and reputation and data records/scripts.
SMAIT (Integrated Islamic Senior High School) Insantama whose tagline is 'School of Prospective Leaders' uses the concept of transformational leadership to carry out leadership and management coaching in stages.
After going through LDK (basic leadership training) I, LDK II, LKMM (Middle Level Leadership and Management Training), Pre-LKMA, all 130 students in class XII became delegates for the Final Level Leadership and Management Training (LKMA) 2022 abroad.
This is done to strengthen the basics of transformational leadership science that has been received previously in the form of comparative management and development studies abroad.
This year, the LKMA entitled Voyage to Aussie for the 11th batch of SMAIT Insantama 'Arzachel' was held on November 12-21, 2022 in Sydney, Australia.
"We chose Australia as the destination country because first, Australia has opened flights from overseas after strict isolation due to the Covid-19 pandemic. Second, Australia is an advanced country in the field of technology and innovation with high income," Uun Sundari, Deputy Head of Student Affairs at SMAIT Insantama, said.
Third, the Muslim community in Australia is very solid. Fourth, Australia has way of dealing with the demographic and employment crisis, and fifth, Australia is ranked 3rd in the world in the field of education in 2022 (U.S. News & World Report), UUn noted.
The process of traveling to Down Under began with an effective process of raising funds for six months, she said, adding that the delegation carried out independently with a targeted amount of 16,600,000 rupiahs (some 1,025 U.S. dollars) per individual.
"This was fulfilled by carrying out a number of processes such as looking for donors and sponsors, doing businesses, saving money, and other halal ways. These long and winding processes were successful, with the permission and help of Allah Subhanahu Wa Ta'ala," Uun said.
According to Uun, all the delegates arrived in Sydney on Sunday, November 13, 2022, and that was when their adventure of scientific and da'wah (religious endeavor) in the land of kangaroos began.
The delegation visited a number of public places that have become icons of Australia, namely The State Library of New South Wales, Australian Museum, The Rocks Discovery Museum, Royal Botanic Garden, Sydney Opera House, Darling Harbour, Sydney Harbor Bridge, La Perouse Beach, Sydney Tower Eye, Observatory Hill Park, Wiley Park, Kendrick Park, Parry Park, and Paul Keating Park.
"There we introduced the Indonesian culture to the crowds of visitors passing by and conducted in-depth interviews about Australia with the country's residents that provided a lot of useful new information for comparative studies," Uun explained.
The delegation's journey continued by visiting the Consulate General of the Republic of Indonesia in Sydney, and was welcomed by the Consul General of the Republic of Indonesia Vedi Kurnia Buana and his staff.
"No less exciting, our insights related to the next big dream, namely the world of lectures and becoming useful figures are increasingly wide open when visiting the University of New South Wales (UNSW), University of Newcastle (UON), University of Sydney (USYD), Australian International Academy (AIA)-Kellyville, and Malek Fahd Islamic School," Uun described.
She pointed out that the delegates got inspirations to become good leaders from Muslim community leaders who welcomed them solely for their ukhuwah Islamiyah (Islam brotherhood), namely those from Ashabul Kahfi Islamic Center, One Brother, Majlis Ta'lim Raudhatul Ilmi Sydney, Surau-Bankstown Sydney, and Dee Why Mosques.
"Our gratitude was even greater when in the midst of this Muslim minority country, we managed to visit places of worship that stood tall, namely the Auburn Gallipoli Mosque, Lakemba Mosque, King Faisal Mosque, and Al-Hijrah Mosque," Uun said.
Each forum is always liven up with various art performances such as angklung (musical instrument of bamboo tubes), pencak silat (martial art), and saman dance. The audience's applause became a sweet ending to every performance.
"Language differences did not prevent us from communicating. English or Arabic is the language used on every occasion," she said.
The LKMA 2022 Insantama delegates are really lucky, because they get valuable knowledge from experienced experts in Australia and experience the pleasures of Islamic ukhuwah from the Muslim community.
The LKMA Voyage to Aussie activity was concluded by the delegation by making and signing a joint commitment guided by the Chair of the LKMA 2022 Insantama, Naufal Yuwan Irawan.
Editing by Indonesia Window