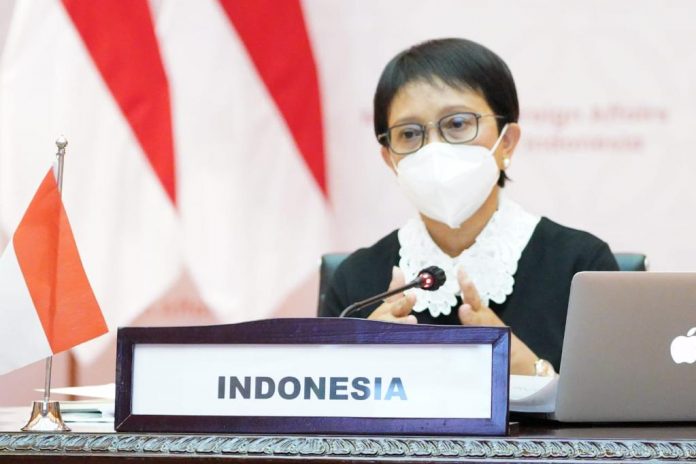 Jakarta (Indonesia Window) – A multilateral mechanism for equal access to vaccines, the COVAX Facility, has so far delivered 103 million doses of COVID-19 vaccine to 135 participants.
This was the record of the 5th COVAX AMC Engagement Group (EG) virtual meeting chaired by Indonesian Foreign Minister Retno Marsudi with Ethiopian Health Minister Lia Tadesse and Canadian International Development Minister Karina Gould on Monday (July 12).
During the meeting, the COVAX AMC (Advance Market Commitment) discussed the latest developments of the COVAX Facility related to funding, vaccine availability and vaccine delivery, including targets to be achieved in 2021.
The meeting also discussed the risk mitigation of vaccine shortages and preparation for vaccine shipments in the 4th quarter of 2021.
The Indonesian foreign minister chaired a session that discussed issues related to the certainty of vaccine delivery and distribution, the prediction of vaccine supplies in the 3rd and 4th quarter of 2021, the plan on delivery of COVID-19 vaccines, and preparations for receiving vaccines by AMC countries.
At the beginning of the meeting, Foreign Minister Retno reiterated the statement from the WHO director general who said that the world is currently in a dangerous stage of the pandemic.
The high mortality rate, the increasing number of cases in many countries and the widening global vaccination gap are the situations the world is currently facing.
"Many countries are having spikes in cases and deaths due to new variants and easing of restrictions. Meanwhile, the global vaccination gap continues to widen. If these continue, the world will never win against the COVID-19," said FM Retno.
Therefore, she called for the acceleration of global vaccination by increasing vaccine production through production diversification, expanding the vaccine portfolio distributed by COVAX, and increasing vaccination capacity of AMC countries.
The meeting also noted that the Gavi Alliance Board (Vaccine Alliance) has also approved funding to support the delivery of vaccines to AMC participating countries worth 775 million U.S. dollars.
So far, 58 countries, including Indonesia, have proposed to purchase vaccines through a cost-sharing mechanism.
Reporting by Indonesia Window