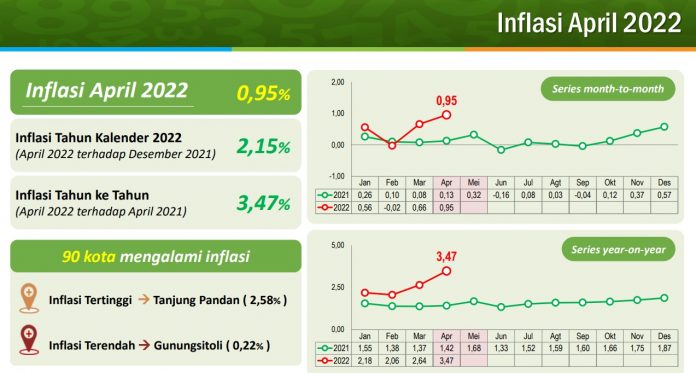 Jakarta (Indonesia Window) – The Statistics Indonesia (BPS) recorded the inflation of 0.95 percent in April 2022 and an increase in the Consumer Price Index (CPI) to 109.98 from 108.95 in March.
"The Inflation in April was quite high at 0.95 percent (month-to-month/mtm) and this happened in all cities," BPS Head Margo Yuwono said at a press conference here on Monday.
Margo explained that the main contributors to the inflation in April came from cooking oil, gasoline, broiler meat, air transportation fares and fresh fish.
With inflation in April, the inflation for the calendar year April 2022 against December 2021 is 2.15 percent and the year-on-year inflation (yoy) or April 2022 against April 2021 is 3.47 percent.
According to Margo, inflation in April 2022 was the highest since January 2017 when it was recorded at 0.97 percent (mtm).
Meanwhile, the inflation of 3.47 percent (yoy) in April 2022 was the highest since August 2019 which was recorded at 3.49 percent (yoy).
Reporting by Indonesia Window