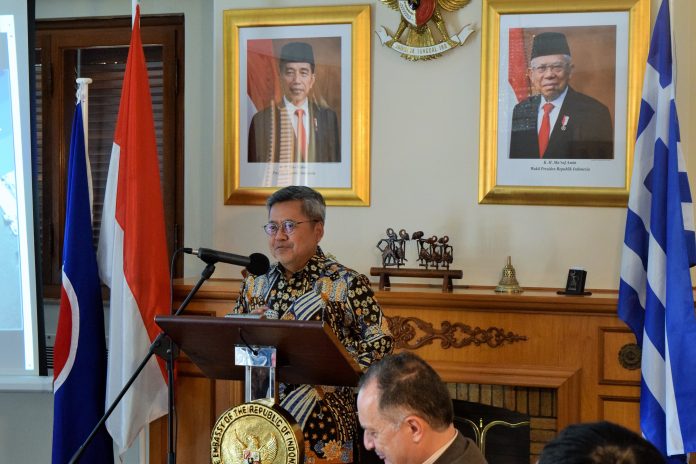 The business forum in Athens, which was initiated by the Indonesian Embassy in Athens, is expected to be able to operate independently and/or facilitate the functions of the Indonesian-Greek chamber of commerce and industry in the future.
Jakarta (Indonesia Window) – Indonesia's Ambassador to Greece, Bebeb A.K. Nugraha Djundjunan, inaugurated the Indonesian-Hellenic Business Forum (IHBF) in Athens on 21 March 2023 in a hybrid manner.
The business forum is a special platform for Indonesian and Greek business people, and other groups, to communicate with each other, exchange experiences, and collaborate to increase trade, investment, tourism, business and economic relations between the two countries.
The business forum, which was initiated by the Indonesian Embassy in the capital of Greece, is expected to be able to operate independently and/or facilitate the functions of the Indonesian-Greek chamber of commerce and industry in the future, according to the Indonesian Ministry of Foreign Affairs in a written statement quoted by Indonesia Window on Sunday.
In his remarks, the Indonesian ambassador conveyed the business development opportunities for Indonesia and Greece, taking into account the strategic locations and similar characteristics of the two countries as maritime countries, as well as the value of trade between the two countries which has continued to grow over the past five years.
In 2022, the total trade value between Indonesia and Greece was recorded at 421.5 million U.S. dollars, an increase of 33.72 percent compared to that in 2019 (pre-pandemic Covid-19) of 315.2 million dollars.
With a population of more than 270 million people, Indonesia is a potential market for Greece, meanwhile the latter is a potential center for market access for Indonesian products, particularly to the Balkans, Eastern Mediterranean and Southern Europe.
The Indonesian ambassador also emphasized the huge export opportunities for Indonesia's leading commodities to Greece, such as palm oil, paper and tissue paper, spare parts for motor vehicles and coal.
Also attending to enrich the audience's insight was the Secretary of the Indonesian Coordinating Ministry for Maritime and Investment Affairs, Ayodhia G.L. Kalake, and an independent member of the Indonesia Investment Authority (INA) Supervisory Board, Darwin Cyril Noerhadi.
Ayodhia stated that Indonesia's economy grew positively up to 5.31 percent in 2022. It was also recorded that the value of foreign direct investment in Indonesia increased by 47 percent in the same period.
On the occasion, Ayodhia invited Greek business partners to invest in Indonesia through the Public-Private-Partnership (PPP) cooperation with a number of incentives, including tax holidays, tax allowances, VAT exemption, and the release of import duty, as well as offering a Strategic Integrated Port Network Projects, Indonesian Sea Tolls, and the Special Economic Zone (SEZ).
Representing INA, Darwin Cyril Noerhadi provided a detailed mapping of investment priority sectors in Indonesia, including the infrastructure and logistics sector (toll roads, ports, airports, cold storage, and warehouses), green energy & transformation (waste management, geothermal, energy transition, and green funds), digitalization, health services, property and tourism, financial services, agriculture, mining, construction, and electronics.
The two sources pointed out that Indonesia has now become an economic power in the region, as well as a profitable center for investment and future economic and business cooperation.
The activity was appreciated by around 70 Greek and Indonesian participants (representing more than 50 companies), who attended physically and virtually.
On this occasion, Zisis Poulios from Violar S.A (one of Greece's leading cotton producers) shared his business experience in the textile sector with partners in Jakarta, Bandung and Solo which he considered very professional and trustworthy.
In general, the attendees saw that the forum needed to be held regularly to increase trade, business and investment cooperation between the two countries.
The IHBF forum is open and can be attended by all business circles of the two countries, through Marina-Evgenia Koroli from legal consultant Marina-Evgenia Koroli Law Office, who will act as IHBF liaison officer.
Reporting by Indonesia Window