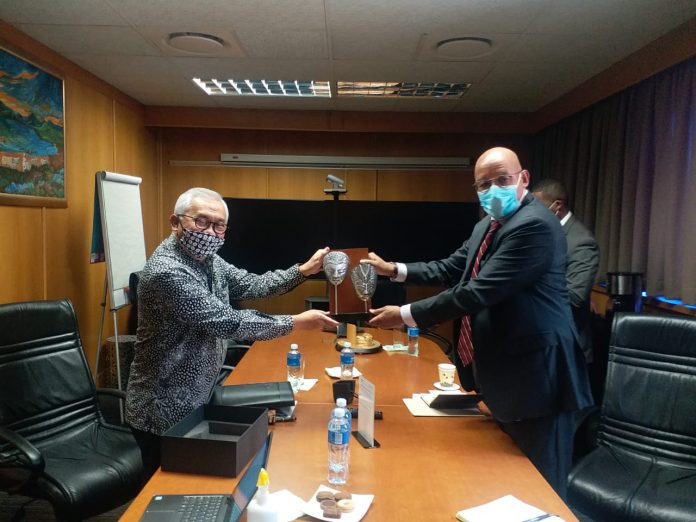 Jakarta (Indonesia Window) – Indonesia wants to take every dynamic opportunity from Africa, including in development programs in the region.
This was conveyed by the Indonesian Ambassador to South Africa Salman Al Farisi in a meeting with CEO of the African Union Development Agency-the New Partnership for Africa's Development (AUDA-NEPAD), Dr. Ibrahim A. Mayaki, on Friday (Feb. 19).
"Indonesia believes that diplomacy will be effective in a multilateral framework. We believe that we are equal partners that are mutually responsible for the welfare of each other," said the ambassador.
During the meeting, Ambassador Salman explained about developments in the region, including the formation of Indonesian Aid in 2019, the Regional Comprehensive Economic Partnership (RCEP) agreement in 2020, as well as Indonesia's chairmanship in the G-20 and ASEAN.
In addition, the Ambassador underlined the relevance of the Asian-African spirit to the current conditions, which can be seen in Indonesia's support and active participation in African development issues, cooperation in multilateral health diplomacy mechanisms to overcome COVID-19, and the plan to implement the Indonesia-Africa Forum (IAF) in 2022.
Meanwhile, Dr. Mayaki warmly welcomes Indonesia's intention to participate in African developments and hopes to synergize the programs of the two parties, especially in the current priority agenda, including increasing human resource capacity, economic integration and regional industrialization.
AUDA-NEPAD, headquartered in the satellite city of Midrand, about 33 kilometers from the capital Pretoria, is an implementation agency under the African Union that is responsible for assisting the accelerated development of its member countries.
The accreditation countries covered by the Indonesian Embassy in Pretoria are the Republic of South Africa, the Republic of Botswana, the Kingdom of Eswatini and the Kingdom of Lesotho, which are members of the African Union.
In connection with the acceleration of economic development, the African Continental Free Trade Area (AfCFTA) officially began on January 1, 2021 under the coordination of the African Union.
The trade pact provides great hopes for an increase in the welfare of the African people by 16.1 billion U.S. dollars, GDP growth between 1 percent and 3 percent, employment growth of 1.2 percent, and a reduction in the African trade deficit by 50 percent.
AfCFTA is also expected to increase intra-African trade by up to 53 percent by removing import duties and non-tariff barriers.
Reporting by Indonesia Window