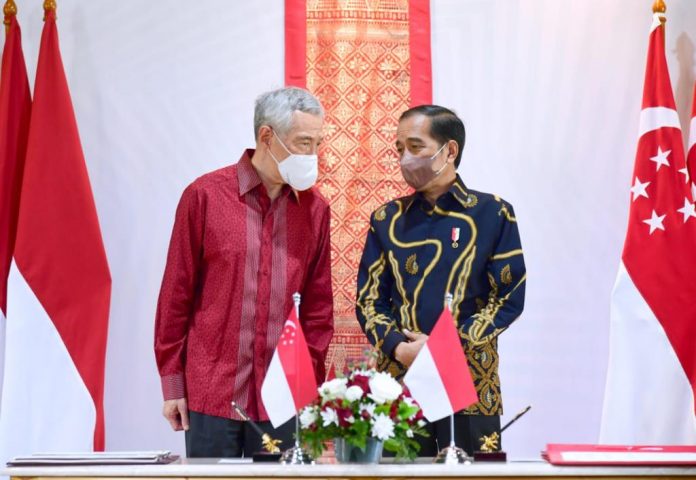 Jakarta (Indonesia Window) – Indonesia and Singapore have agreed to strengthen bilateral cooperation in order to restore the economy.
It was discussed during a meeting between Indonesian President Joko Widodo and Singaporean Prime Minister Lee Hsien Loong in Indonesia's Bintan district, Riau Islands province on Tuesday (Jan. 25).
"PM Lee and I discussed efforts to strengthen bilateral cooperation in various fields, especially in the economy, and exchanged views on various issues in the region," the head of state said in a joint statement with PM Lee after the meeting.
The president pointed out that Singapore is Indonesia's largest investor with an investment value of 7.3 billion U.S. dollars in the January-September 2021 period.
"The retreat meeting recorded new investments of 9.2 billion U.S. dollars, including in the field of new and renewable energy in Batam (Riau Islands) and Sumba and West Manggarai islands (East Nusa Tenggara province), as well as the construction of a logistics hub at Tanjung Priok Port (Jakarta)," he said.
At the meeting, a memorandum of understanding was signed on energy cooperation, as well as green economy and circular economy developments.
"Investment in energy and renewable energy continues to be a priority for the Indonesian government in order to promote a green and sustainable economy," the president said.
In addition, the two countries also signed a cooperation document in the financial sector to maintain financial and monetary stability in support of the economic recovery.
In November 2021, the Local Currency Bilateral Swap Agreement (LCBSA) and Bilateral Repo Line (BRL) cooperation between Indonesia and Singapore were extended for one year.
"I also hope that the MoU between central banks related to payment innovation, anti-money laundering, and prevention of terrorism financing will be signed soon," the president said.
The two countries also agreed to conclude discussions on human mobility that is safe from COVID-19.
"In order to support safe human mobility, the two countries are currently finalizing cooperation on vaccine recognition and synchronization of interoperability of tracking and protection platforms owned by the two countries," the head of state said.
Reporting by Indonesia Window