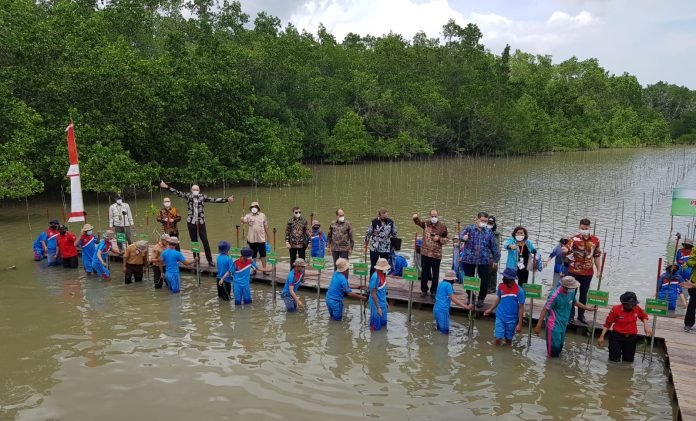 Jakarta (Indonesia Window) – The Indonesian government is following up on opportunities for cooperation with Saudi Arabia in the field of climate change, particularly related to mangroves and coral reefs restorations, as well as blue carbon development.
It was discussed during a working visit by the Indonesian delegation led by the Deputy for Coordination of Environmental and Forestry Management of the Coordinating Ministry for Maritime Affairs, Nani Hendiarti, and the Director General of Electricity at the Ministry of Energy and Mineral Resources, Rida Mulyana, to Riyadh on March 29-30, 2022.
The working visit was a follow-up to the visit of Coordinating Minister for Maritime Affairs and Investment Luhut Binsar Pandjaitan to Saudi Arabia some time ago.
On the first day of the visit, the Indonesian delegation met Deputy Minister for Environment of Saudi Ministry of Environment, Water and Agriculture Osama Ibrahim Faqeeha and Head of the National Center for Vegetation Cover and Combatting Desertification, Head of the National Center for Wildlife and representatives of King Abdullah University of Science and Technology.
"Currently, Indonesia is carrying out mangrove rehabilitation of 600,000 hectares, including blue carbon, coral reef restoration, as well as the Blue Halo-S agenda which will be collaborated with Saudi Arabia," Nani Hendiarti said in a written statement here on Tuesday (Apr. 5).
On the second day, the working visit continued to the Ministry of Energy, where the Indonesian delegation presented a national energy transition plan linked to the Nationally Determined Contribution (NDC) target.
Indonesia also presented the Bali Nett Zero Emission Program in 2045, in which Saudi Arabia is welcomed to contribute.
In addition, Nani Hendiarti also explained the North Sumatra food estate program as well as a plan to develop a new food estate in Central Sulawesi that would support food security in the national prospective new capital city of Indonesia in East Kalimantan province.
"The development of this food estates has also received serious attention from Saudi Arabia, especially for commodities of vegetables, wheat flour, onions and milk. Indonesian is seeking to make Saudi Arabia contribute to the project considering that the development of these food estates is not only related to commodities but also modern agricultural mechanizations and technologies and human resource capacity development," Nani added.
As a follow-up to this meeting, the Saudi Arabia government will review Indonesia's proposal, and the two parties will hold a virtual technical meeting to set up areas of cooperation.
The cooperation document is expected to be signed by ministerial-level officials in May or June 2022 at the latest.
Reporting by Indonesia Window