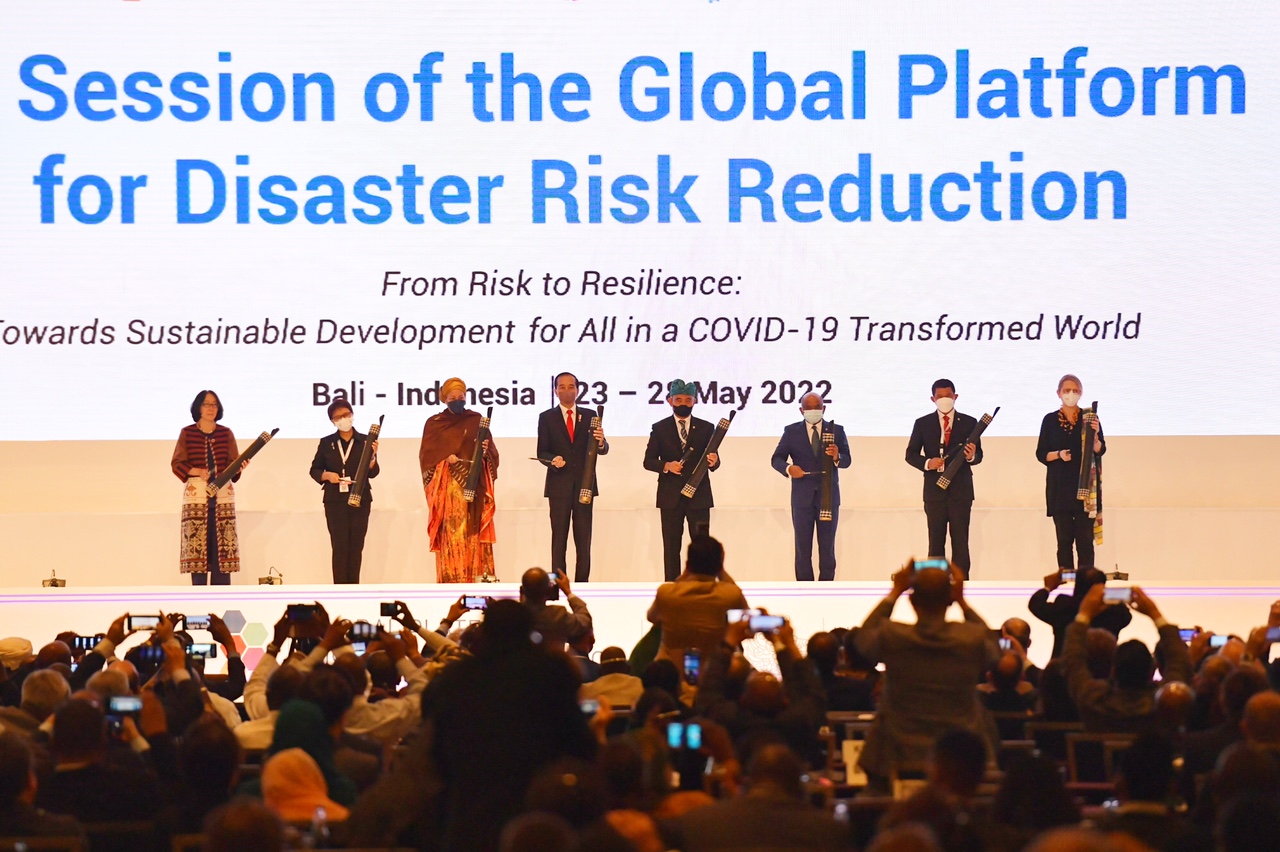 Jakarta (Indonesia Window) – Head of the Indonesian National Disaster Management Agency Suharyanto conveyed seven recommendations on the Bali Agenda for Sustainable Resilience at the closing of the 7th Global Platform for Disaster Risk Reduction (GPDRR) meeting, Friday (May 27) in Bali.
First, disaster risk reduction needs to be integrated into key development and financing policies, legislation, and plans for achieving the 2030 Agenda, the Indonesian Cabinet Secretariat said in a statement received here on Monday.
According to Suharyanto, the Global Platform calls for the transformation of risk governance mechanisms to ensure that risk management is a shared responsibility across sectors, systems, scales and boundaries.
"A number of examples show that working horizontally and vertically can help the government to solve the problem of institutional gaps and sectoral egos," he said.
Second, only with systemic change can the world community take into account the true costs of disasters and the costs of no action, and compare them with investments in disaster risk reduction.
"Good examples of political commitment shown in the form of approved budget targets and tracking mechanisms for disaster risk reduction are emerging, which should be promoted and replicated," he said.
Suharyanto further said that the financing strategy for disaster risk reduction can direct and prioritize investment and must be included in an integrated national financing framework.
Third, the Global Platform convened between the United Nations Climate Change Conference (COP) 26 and COP 27 observes that current emission levels far exceed their mitigation efforts, which result in an increase in the frequency and intensity of disaster events, and threatens the achievement of the 2030 Agenda.
"The Global Platform calls on governments to honor the commitments made in Glasgow to drastically increase financing and support for adaptation and resilience," the agency's head said.
Suharyanto also said there was an urgent need to improve disaster risk reduction as part of the solution to the climate emergency, while increasing and achieving climate ambitions.
Fourth, disasters have a different impact on everyone, he said, adding that this calls for a participatory and human rights-based approach to include all according to the principle of "nothing about us without us" in disaster risk reduction planning and implementation in at-risk communities.
Suharyanto explained that investment in the younger generation and young professionals must be increased to stimulate innovation and creative solutions.
"There must be a re-commitment to community involvement, and community-driven disaster risk reduction, as well as supporting existing local structures and building resilience," he said.
Fifth, the Global Platform provides recommendations that can support the implementation of the United Nations Secretary-General's call to ensure that everyone on earth is protected by an early warning system within the next five years.
Responses to these calls must take into account the comprehensive community-centered early warning value chain from end to end – from risk assessment to infrastructure and reaching the end goal.
"Development of a multi-hazard early warning system must involve the community most at risk with adequate institutional, financial and human resource capacities to take action based on early warning," Suharyanto added.
Better availability and quality of data, financial resources, effective governance and better coordination mechanisms among stakeholders will strengthen multi-hazard early warning systems, particularly in underdeveloped countries (LDC), small island developing countries (SIDS), and Africa.
Sixth, the potential for transformative learning from the COVID-19 pandemic must be applied before the window of opportunity closes.
"The current approach to recovery and reconstruction is not effective enough in protecting development outcomes nor in rebuilding in a better, greener and fairer way," he stressed.
Suharyanto said there is a need to encourage an adaptive and responsive disaster risk management system with multi-stakeholder collaboration accompanied by empathy, solidarity, cooperation, and the spirit of volunteerism in particular to overcome injustice.
Seventh, comprehensive and systematic reporting, including in-depth progress reviews of all Sendai Framework targets by member countries will help draw clear recommendations for a midterm review of the Sendai Framework.
"The Global Platform calls on all member states, regional organizations and stakeholders to engage in this midterm review of the Sendai Framework to clearly understand the challenges and barriers to implementation and accelerate efforts to achieve the desired goals by 2030," he concluded.
Reporting by Indonesia Window