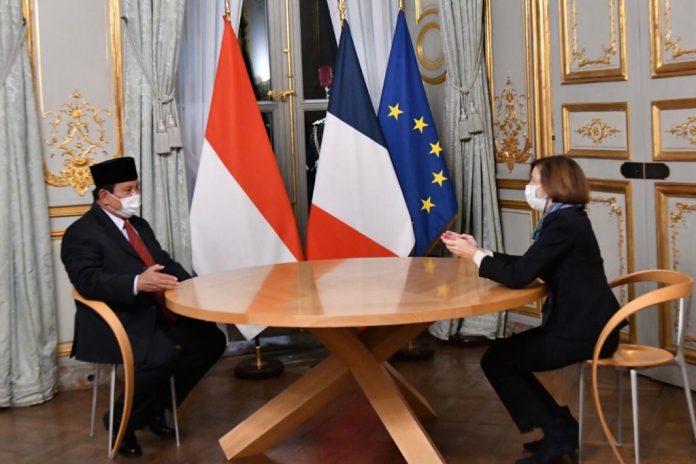 Jakarta (Indonesia Window) – Indonesian Minister of Defense Prabowo Subianto held a bilateral meeting with his French counterpart, Florence Parly, at the French Defense Ministry Office in Paris on Wednesday (Oct 21).
During the meeting, the two defense ministers discussed developments on situation and dynamics in the Indo-Pacific region.
France pays special attention to the Indo-Pacific, considering that around 1.6 million French nationals live in this region.
In that context, the two ministers underscored the importance of continuing to maintain regional stability and security.
In addition, the two defense ministers specifically discussed frameworks for future defense cooperation.
During this year, the two countries have witnessed various progress in bilateral defense cooperation, one of which is in the Indonesian defense industry.
"I have noted rapid progress from the strategic partnership between Indonesia and France in the defense sector this year," Defense Minister Prabowo said at the meeting.
He added that Indonesia wants to continue to develop cooperation with France in various defense sectors, including in strengthening the Indonesian Armed Forces' (TNI) weapon system.
Indonesia also wants to advance the capacity of the national defense industry and become part of the global production chain for defense equipment, Minister Prabowo said.
At the prior meeting last January, the two defense ministers agreed to establish a Defense Cooperation Agreement (DCA).
The agreement will cover comprehensive defense cooperation, including military education and training programs, maritime security, terrorism countermeasures, defense industry development, and capacity building in disaster management, such as the COVID-19 pandemic mitigation.
Therefore, the ministers have asked the negotiating team of each country to immediately complete the DCA, so that it could be signed by Indonesian and French Defense Ministers at the end of this year.
The DCA is expected to mark the commemoration of 70th anniversary of diplomatic relations between Indonesia and France.
Meanwhile, the Indonesian Ambassador to France, Arrmanatha Nasir, said the cooperation between the two countries in the defense sector is getting closer, in the midst of the COVID-19 pandemic that pushes all countries to postpone activities.
"It can be seen not only from the intense communication between the two defense ministers, but also the Strategic Defense Equipment Cooperation working group which has met twice this year," the ambassador said.
The Indonesian-French cooperation in the defense sector was established based on an agreement between the two countries in 2017 through a Letter of Intent (LoI) which also included maritime cooperation and maritime security.
Since 2013, the bilateral defense cooperation in several fields such as training and education, mutual visits and the eradication of terrorism have been discussed in the annual Indonesia-France Defense Dialogue (IFDD).
Reporting by Indonesia Window