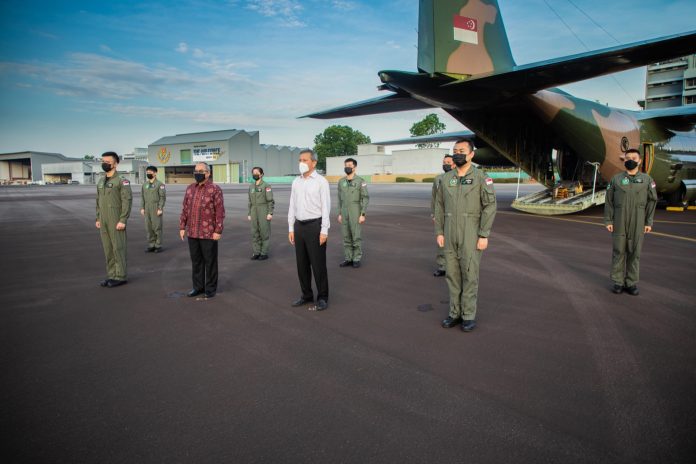 Jakarta (Indonesia Window) – Singapore on Friday (July 9) sent medical equipment in assistance to Indonesia amid the surge in COVID-19 cases.
Singapore's Minister of Foreign Affairs Vivian Balakrishnan handed over the assistance to Indonesian Ambassador to Singapore Suryo Pratomo at the Paya Lebar Singapore Air Base.
The event was attended by representatives from the Singapore Ministry of Defense and the Singapore Armed Forces (SAF).
The donation from Singapore was sent in two stages, consisting of 200 ventilators, 756 oxygen cylinders, 600 oxygen concentrators and personal protective equipment.
In the first phase, Singapore sent 200 ventilators, 250 empty oxygen cylinders, 30 oxygen concentrators, and various medical equipment, using two C-130 aircraft of the Singapore Air Force.
The delivery of the second phase of aid will use the Singapore Navy Ship on July 11, 2021 to Indonesia's Tanjung Priok seaport in Jakarta.
Foreign Minister Vivian said, as Indonesia's closest neighbor, Singapore would continue to support and assist Indonesia in this difficult situation.
Singapore's minister also appreciated Indonesia, which in the early days of the pandemic provided assistance to help build isolation facilities for COVID-19 patients in the city-state.
He hoped that the assistance could support Indonesia's efforts in tackling COVID-19 in the country. "We know that the Delta variant spreads very quickly and of course we hope that Indonesia will soon be able to curb the transmission," said Minister Balakrishnan.
Meanwhile, Ambassador Suryo stated, in the difficult situation when the number of COVID-19 cases in Indonesia is surging, the most needed is true friends.
"Singapore shows up as a true friend to Indonesia. It is not only the Singaporean government that has been so quick to provide assistance, but also Singaporean companies and the people," he said.
Singaporean company Temasek in collaboration with Indonesian company Barito Pacific donate 1,500 oxygen concentrators, which are currently in Shanghai, China.
Indonesia will directly pick up the assistance from Shanghai using commercial cargo planes.
Reporting by Indonesia Window