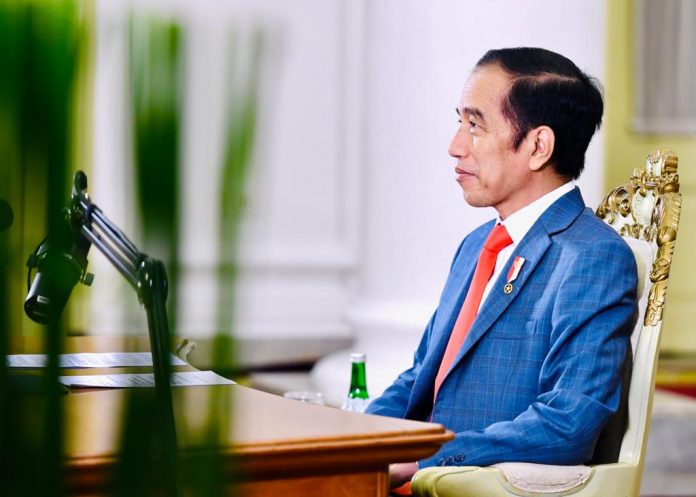 Bogor, W Java (Indonesia Window) – Indonesian President Joko Widodo has emphasized that the process of recovery and awakening from the pandemic could only be realized with big vision, action and change.
The head of state made the statement on the second day of the G20 Summit from the Bogor Presidential Palace, West Java, on Sunday (Nov 22).
"This (recovery and awakening) could be realized if there is a big vision, big action, and big change. Big vision, big action, and big transformation," the president was quoted by Indonesian Minister of Foreign Affairs, Retno Marsudi, as saying.
She added that in his speech the president said the COVID-19 pandemic had provided valuable lessons for all countries to do self-examination, not only to recover from the health and economic crisis, but also to rise up and grow stronger.
The president said that Indonesia also wanted to make a major transformation towards a more inclusive, sustainable and resilient economy.
"It has become Indonesia's commitment to a greener and more sustainable economy. The progress of economic recovery is no longer ignoring protection of the environment," Foreign Minister Retno quoted him as saying.
Referring to the World Economic Forum (WEF), President Joko Widodo said the potential for a green economy is very large with business opportunities reaching a value of 10.1 trillion U.S. dollars with 395 million new jobs created by 2030.
"The president also said that Indonesia has made various breakthroughs, including by utilizing biodiesel B30, a trial of green diesel D100 from palm oil which will absorb one million tons of farmers' production, and also installing hundreds of thousands of roof-top panels in the household sector," the foreign minister said.
The president also said Indonesia has passed the Omnibus Law on Job Creation which provides certainty regarding the requirements for environmental permits, environmental impact analysis, and the establishment of an environmental rehabilitation fund.
"The Omnibus Law also provides protection for tropical forests as a bulwark against climate change," Foreign Minister Retno quoted him as saying.
At the end of his statement, the Indonesian President said that a stronger joint recovery requires a big vision, action and transformation.
"Recovering together and stronger requires big vision, action and transformation. This is what the G20 countries must do to build a more inclusive, sustainable and resilient world economy. An inclusive, sustainable, and resilient future," Retno said.
At the second day of the summit, the G20 leaders discussed efforts to create a better future, including alleviating poverty, inequality and corruption, as well as empowering women and youth, and developing education, tourism and the digital economy.
Climate change control and international cooperation on the environment, coral reefs, land degradation, food security and water were also discussed at the G20 summit which was held in Riyadh virtually.
Reporting: Indonesia Window