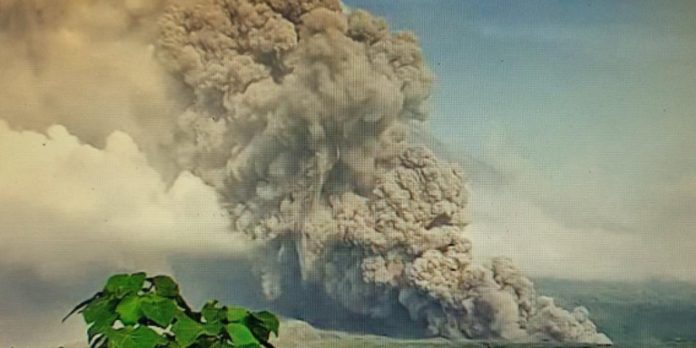 As many as 1,979 people fled to 11 points after the hot clouds dropped from Indonesia's Mount Semeru and the volcanic activity has been increasing since Sunday morning.
Jakarta (Indonesia Window) – As many as 1,979 people were displaced at 11 points due to the avalanches of hot clouds from Indonesia's Mount Semeru in Lumajang district, East Java province, and volcanic activities that occurred on Sunday morning, but no casualty in this natural phenomenon was reported.
The Center for Volcanology and Geological Hazard Mitigation (PVMBG) has raised the status of Mount Semeru from level III to level IV, Abdul Muhari, Acting Head of the Center for Disaster Data, Information and Communication at Indonesia's National Agency for Disaster Countermeasure (BNPB), said in a written statement on Sunday.
The areas affected by Semeru's eruption included Capiturang and Sumberurip villages in Pronojiwo sub district, Sumbersari village in Rowokangkung sub district, Penanggal and Sumberwuluh villages in Candipuro sub district, as well as Pasirian village in Pasirian sub district.
The joint team from Lumajang district's Regional Disaster Management Agency (BPBD), the National Search and Rescue Agency (Basarnas), military and police personnel, and volunteers are continuing to carry out rescue, search and evacuation efforts, Muhari said.
A total of 10,000 fabric-made masks, 10,000 medical masks and 4,000 children's masks have been distributed to reduce the impact of respiratory health risks due to volcanic ash, he noted.
Meanwhile, emergency kitchens are being prepared by the Indonesian Red Cross (PMI) and the local social service office, he added.
Mount Semeru again spewed avalanches of hot clouds on Sunday at 2.46 a.m. local time, with gray columns of medium to thick intensity, flowing to the Southeast and the South approximately 1,500 meters high above the summit.
According to the Geological Agency, the Center for Volcanology and Geological Hazard Mitigation of the Ministry of Energy and Mineral Resources, the source of the hot clouds came from piles at the tip of the lava tongue about 800 meters from the peak or Jonggring Seloko crater.
Reporting by Indonesia Window