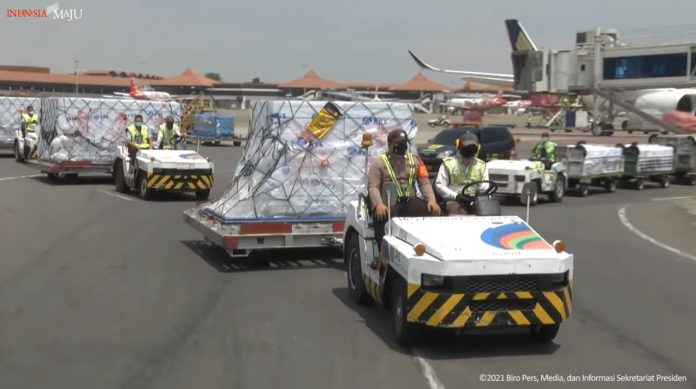 Jakarta (Indonesia Window) – Indonesia received two million doses of COVID-19 vaccines, one million doses each from the government of the People's Republic of China and Chinese Sinovac company via Soekarno Hatta International Airport in Tangerang district, Banten province, on Friday (Sep. 24).
"Today, one million doses of Sinovac vaccine from the government of the People's Republic of China have arrived. Also, arrived one million doses of Sinovac vaccine from Sinovac vaccine company, which was given free of charge," said Indonesian Foreign Minister Retno Marsudi in a virtual press statement, welcoming the arrival of the 78th phase of the COVID-19 vaccines, Friday (Sep. 24).
Previously, on Tuesday (Sep. 21), Indonesia also received 200,000 doses of Sinopharm vaccine from the Red Cross of the People's Republic of China.
"I express my gratitude and appreciation for the vaccine support, both by the PRC government, the Sinovac company, and also the Red Cross Society of China," she said.
With the arrival of the vaccine on Friday, the number of vaccines that have arrived in the country is 273.6 million, both in the form of ready-to-use and in bulks.
"Cooperation is the key. Our diplomatic machine continues to work by establishing cooperation in various forms so that our vaccine needs are fulfilled," said Minister Retno.
On the same occasion, the Ambassador of the People's Republic of China to Indonesia, Xiao Qian, said that the vaccine arriving on Friday was an additional support from the Chinese government, following the aid of 120 ventilators, 400 oxygen generators, and other medical equipment that were sent last August.
"Until now, Sinovac and Sinopharm have delivered 215 million doses of vaccine to Indonesia. This is almost 20 percent of all vaccines exported by China in the same time period, and more than 80 percent of the total vaccines obtained by Indonesia," he noted.
"Under the strong leadership of President Joko Widodo and the efforts of all Indonesians, China believes that Indonesia will be able to deal with the pandemic in the near future and restore socio-economic growth as soon as possible. China will continue to support Indonesia and its efforts in dealing with the pandemic," Ambassador Xiao said.
Reporting by Indonesia Window