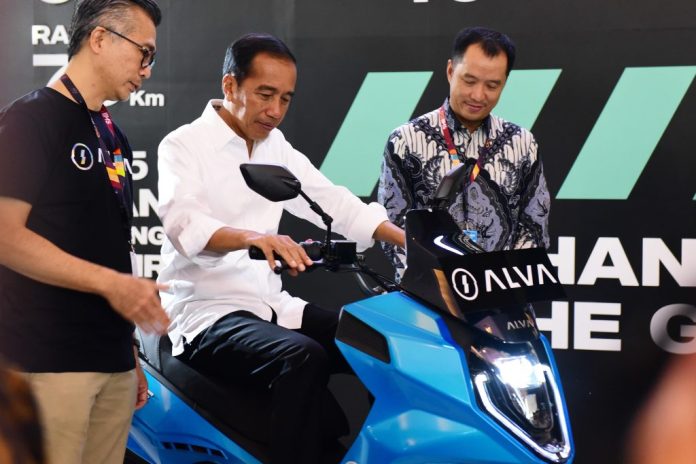 Automotive industry in Indonesia is expected to increase sales overseas in order to overcome traffic jams in the country's big cities due to the significant rise in vehicle sales in this archipelago.
Jakarta (Indonesia Window) – The automotive industry in Indonesia significantly increases every year, President Joko Widodo said in his remarks at the 2023 Indonesia International Motor Show (IIMS) in Jakarta on Thursday (Feb. 16).
"In 2022 it grew 18 percent, an increase from the previous year. The car sales in 2022 were recorded at 1,048,000 cars, and those of motorbikes have increased by 3.3 percent, increasing to 5,221,000 units in 2022," the president explained.
However, the increase in sales of these vehicles has caused traffic jams in Indonesia's big cities such as Jakarta, Surabaya, Bandung and Medan, he said, adding that to overcome this, he called on the automotive industry to increase sales abroad.
"In order not to get stuck, I invite the automotive industry to be more export oriented. Indeed, the increase has been quite sharp from 2021 to 2022 from 300 thousand, more or less, to almost 600 thousand," he noted.
The president also thanked the automotive industry that has increased its exports up to 100 percent. However, he emphasized that the government will continue to encourage increased vehicle exports to compete with other countries.
President Widodo also mentioned that countries in the world would switch to electric vehicle ecosystems. For this reason, he encouraged people to use electric cars.
"I also invite the automotive industry to start looking at this trend and little by little to shift the industry towards a trend that almost all countries are currently moving towards, from combustion to electric cars," he said.
He emphasized that the government is currently encouraging the electric car industry ecosystem in the country so that it can enter the global supply chain, and thus can increase economic added value.
"The government is also currently pushing for this large ecosystem of electric cars from upstream to downstream to be owned by us so that it can enter the global supply chain. From EV batteries, from lithium batteries, we will continue to push for everything so that this can be completed soon," he said.
"So now if investors want to make cathodes or precursors, we say stop first. They have to get into EV batteries, so we can get more added value from the industry we have," he said.
On the occasion, the head of state toured electric car booths, and tried a number of the cars on display including Esemka, Toyota, Hyundai, and Wuling, the Indonesian Cabinet Secretariat said in a written statement quoted by Indonesia Window on Friday.
Reporting by Indonesia Window