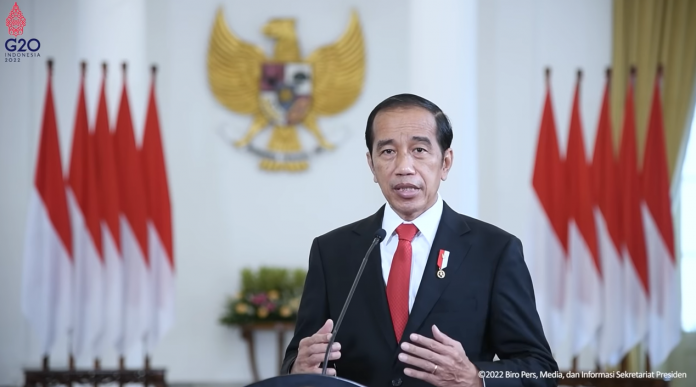 Bogor, W Java (Indonesia Window) – Indonesian President Joko Widodo (Jokowi) has conveyed a number of Indonesia's achievements and commitments in marine protection at the One Ocean Summit which was held in Brest, Brittany, northwest of France on February 9-11, 2022.
"Indonesia is proud to be one of the countries at the forefront of the world in marine protection," the president said in a virtual speech on Friday (Feb. 11).
A number of Indonesia's commitments in marine protection stated by the head of state included the conservation of marine waters covering an area of ​​32.5 million hectares by 2030.
According to the president, until 2021 Indonesia has succeeded in achieving this goal of 28.1 million hectares or 86.5 percent of the target.
"We are optimistic that our commitment in 2030 will be fulfilled," he said.
Indonesia is also committed to reducing 70 percent of marine plastic wastes by 2025.
Various efforts are being carried out by the Indonesian government, starting from an action plan for handling marine plastic wastes to the construction of waste- powered plants that convert 1,000 tons of wastes daily into 10 megawatts of electricity.
"The mangrove ecosystem is also our concern. We are targeting the rehabilitation of 600,000 hectares of mangroves by 2024. We believe that not only will these efforts have impacts on the preservation of the marine environment and sustainable development, but also on climate change," President Jokowi said.
At the (Conference of the Parties) COP26 last year, he continued, together with the Archipelagic and Island States (AIS) Forum countries, Indonesia called for the importance of the link between the ocean and climate change.
Indonesia believes that with international supports, archipelagic countries and small island countries can be part of the climate change solutions.
In addition, President Jokowi also said that the management of the marine environment needs to be placed in the frame of sustainable development and be a part of supporting economic recovery from the impact of the pandemic.
"We have taken breakthroughs, including a measured and quota-based fishing policy supported by an integrated technology-based surveillance system, as well as the development of aquaculture villages based on local wisdom for poverty alleviation and preservation of high economic value commodities," he explained.
At the global level, the head of state emphasized that Indonesia also continues to support the mainstreaming of maritime issues.
Indonesia's G20 presidency underlines the importance of blue economy, blue carbon, and handling marine debris.
"Indonesia is ready to partner with all parties for realization of a sustainable marine ecosystem," he said.
The One Ocean Summit aims to mobilize the international community to take concrete actions to conserve and support healthy and sustainable oceans.
The event was held under the French Presidency of the Council of the European Union, supported by the United Nations.
Reporting by Indonesia Window