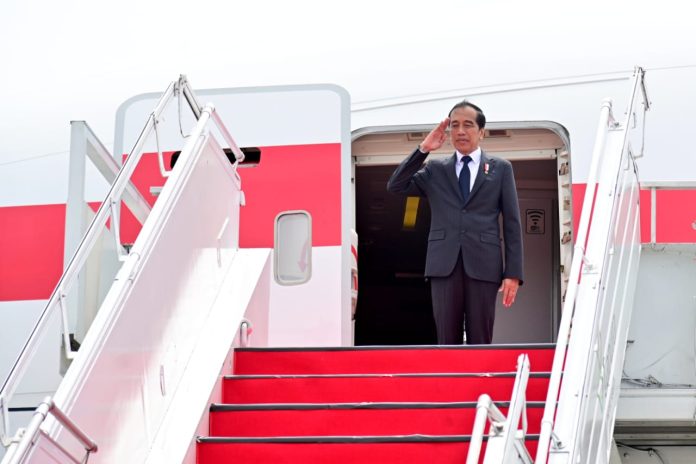 Working visits of Indonesian President Joko Widodo to four African countries bring the Spirit of Bandung (the capital of Indonesia's West Java province) as well as strengthen solidarity and cooperation among the Global South countries.
Jakarta (Indonesia Window) – Indonesian President Joko Widodo (Jokowi) departed for Africa on Sunday (August 20) to conduct working visits to four countries in the continent.
"We will visit four countries, namely Kenya, Tanzania, Mozambique and South Africa, and this is my first visit as president to the African region," the president said in his press statement before departure from Kualanamu International Airport in Deli Serdang district, North Sumatra province.
The head of state stated that Indonesia and Africa have a long historical relationship because the country with a population of more than 170 million people was the initiator and host of the Asia-Africa Conference in 1955, and this largest archipelagic country in the world also played an important role in the establishment of the Non-Aligned Movement.
"It is the Spirit of Bandung that I will bring with me on the working visits to Africa for strengthening solidarity and cooperation among the Global South countries," he stated.
Regarding the countries to be visited, President Widodo said that Kenya and Tanzania have shown their commitment to continuing to enhancing cooperation with Indonesia.
"Kenya and Tanzania opened their embassies in Jakarta last year. This is the commitment of the two countries to continue to strengthen cooperation with Indonesia," the president explained.
Meanwhile, Mozambique is the first African country to have a preferential trade agreement (PTA) with Indonesia, he noted, adding that the visit to South Africa was to meet an invitation to attend the Summit of BRICS (Brazil, Russia, India, China, and South Africa) 2023.
"Of course, on the sidelines of the BRICS Summit there will be various bilateral meetings with other heads of state," he added.
The president and his entourage are scheduled to return to Indonesia on August 25, 2023.
Reporting by Indonesia Window