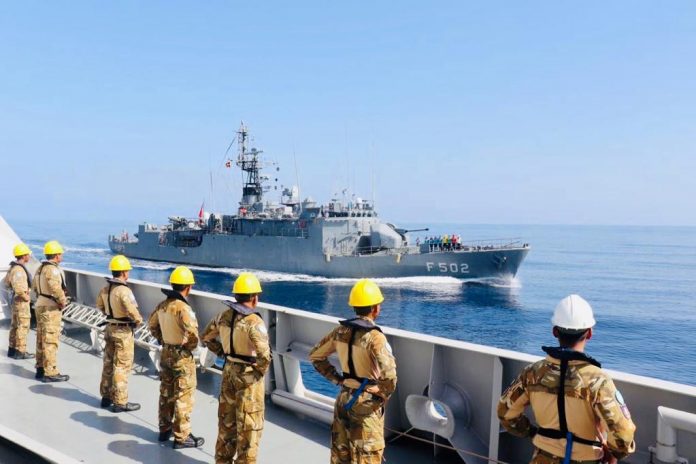 Jakarta (Indonesia Window) – Ahead of returning to duty at the UN Peace Mission in Lebanon (the 35th on task), Indonesia's Garuda military peace keeping force of Maritime Task Force XXVIII-L/UNIFIL of Sultan Hasanuddin 366 warship held a joint passing exercise (passex) with the Turkish ship TCG Bandirma F 502 and TCG Tufan P 333 in Mediterranean sea on Tuesday (Sep 29).
The joint exercise is the second time held by the Indonesian Sultan Hasanuddin 366 ship and Turkish warships, according to a statement from the Indonesian Embassy in Ankara received by Indonesia Window here on Thursday.
Earlier, a similar exercise was held by the Indonesian peace keeping forces with the Turkish Warship TCG Bozcaada F 500 and TCG Karpaz P 1213.
A passex exercises is an incidental event carried out by warships around the world.
The exercise is held when warships of a country make visits to other countries with the aim at ensuring that two navies can communicate and cooperate in times of war or in humanitarian missions.
Passex exercises have become a tradition of the Indonesian Navy and its Turkish counterpart in an effort to build friendships.
The passex exercise was carried out for three hours and ran safely and smoothly. The two navies trained some activities, namely, Navcomex 204, flag hoist, Miscex 830, Miscex 831 and Miscex 806.
After the exercise, the Sultan Hasanuddin 366 ship headed for Lebanese waters to carry out the UN peace mission in the country under the UNIFIL (the United Nations Interim Force in Lebanon).
On Monday (Sep 28), the Indonesian peace keeping force personnel also conducted a joint underwater diving exercise with the Turkish Coast Guard.
Reporting by Indonesia Window