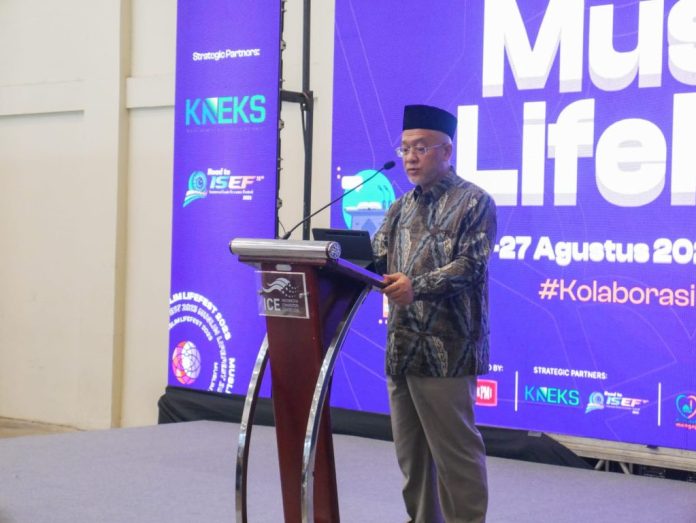 The business exhibition, Muslim LifeFest, is an event to build synergies between businesspeople and various parties besides educating the importance of halal certification in a more integrated and widespread manner.
Banten (Indonesia Window) – The business exhibition, Indonesia Muslim Lifestyle Festival (Muslim LifeFest/MLF), was officially opened by Dr. Taufik Hidayat, M.Ec, Acting Executive Director, Executive Management at the National Sharia Economic and Finance Committee (KNEKS), in Tangerang district, Banten Province, on Friday (Aug. 25).
On the occasion, Taufik Hidayat appreciated the effort made by the Indonesian Muslim Entrepreneurs Community (KPMI) together with Lima Events which have been committed and consistent since 2019 in driving the economic potential of the real sector dealing with halal products and the sharia industry from various areas in the country.
Halal is an Arabic term meaning permissible and sharia is also an Arabic   term dealing with Islamic laws and rules.
"Of course we must fully encourage this effort in preparing quality halal products of MSMEs (micro, small and medium enterprises)," Taufik Hidayat said, while emphasizing the importance of the exhibition as an ecosystem that strengthens the halal value chain in developing a holistic Islamic economy.
The business exhibition, Muslim LifeFest, is an event to build synergy between businesspersons and various parties besides educating the importance of halal certification in a more integrated and widespread manner, said Taufik, who also called on all business actors who have received halal certification to continue to improve quality and maintain quality standards.
Considering that the global halal market is very concerned about quality, Indonesia has a halal standard and a halal assurance system which becomes a reference for the world's halal certification bodies, namely HAS23000, which is one of Indonesia's strengths to compete in the global market.
Meanwhile, KPMI Chairman Rachmat Surtanas Marpaung said Muslim LifeFest was a barometer to see trends that are developing because consumer behavior changed so quickly.
Therefore, according to Rachmat, businesspeople must also be prepared for various changes and adapt quickly.
Rachmat further said that Muslim LifeFest, which is consistently held simultaneously in several cities in the country, is intended to strengthen the ecosystem for businesspeople dealing with halal products, as well as the sharia economic and financial sector.
"Given Indonesia's big dream of becoming the center of world halal producers in 2024, the role of an inclusive ecosystem is urgently needed to drive potential growth, create demand, increase added value and quality of Indonesian halal products," he said.
Rachmat explained that sharia economic and financial literacy and inclusion must continuously be echoed, popularized and synergized with various parties in order to strengthen the sharia economic ecosystem that is being developed.
"Therefore, through Muslim LifeFest, we invite various parties to collaborate with each other in an effort to meet the target this year which is one million halal certificates for food, beverage, slaughter products and slaughter services," Rachmat noted.
KPMI as a community that accommodates 48,000 Muslim businesspeople also continues to encourage all its members to improve product quality to meet market needs.
Therefore, the community is working with the Halal Product Assurance Organizing Agency (BPJPH) to hold awards for entepreneurs.
The criteria for receiving the awards are that the product is halal certified, and has guaranteed quality and quality standards.
"Three selected businesspersons receive awards and free standard-sized booths at this year's Muslim LifeFest," Rachmat said.
In addition, during the exhibition, the KPMI Export Academy together with the Nudira Learning Center hold an export training activity that can be attended by entrepreneurs and prospective entrepreneurs.
At Muslim LifeFest 2023, visitors can listen to various casual talks related to food safety under the theme 'Read and Recognize Fresh Food Labels' with the Director of Food Safety and Quality Standard Formulation of the National Food Agency (NFA).
The Director of Lima Events (the organizer for Muslim LifeFest), Deddy Andu, said:" Every year we always present different programs of events and package them creatively so that visitors can really enjoy a memorable exhibition. They get business knowledge, meet and of course the exhibition can become an educational and fun family tourism destination".
Another new program presented at the event is sportstainment in collaboration with the founder and CEO of Kasisolusi, Deryansah, featuring a badminton tournament (fun match) between influencers in the pre-function hall 10, with attractive prizes from Majeed, namely Muslim LifeFest's official merchandise partner, a brand clothing by Deryansah.
Coffee connoisseurs and baristas can also take part in the V60 manual brewing competition, in collaboration with the Indonesian Coffee Association (ASKI).
In addition, the existing Serlok Kuliner program, together with Uki Kautsar (a former guitarist of a popular music group in Indonesia) and Reda Samudera (a former vocalist of a noted music group in Indonesia), is also interesting, presenting a warm conversation about a culinary business while eating halal, safe and delicious culinary dishes in the culinary zone.
For parents who plan to send their children to Islamic boarding schools or Islamic schools, Muslim LifeFest event this time is in conjunction with Muslim EduFest organized by PT Satue Event and Bina Masyarakat Madani Indonesia (BMMI), by presenting dozens of Islamic educational institutions.
Various workshops on parenting and children's playgrounds together by Ghuraba, activity mini zoo (animal feeding), horse riding and archery activities in collaboration with Branchsto, become interesting tours that are fun for families.
In fact, those who want to seek cheap basic food products can get them at the basic food bazaar in collaboration with the National Food Agency.
With a variety of interesting events, Deddy Andu is optimistic that the three-day Muslim LifeFest event can attract the attention of more than 40,000 visitors.
"Last year, there were around 42,000 visitors. This year's target can at least reach that figure, thank God it can increase," Deddy Andu noted.
Muslim Lifefest ticket prices can be purchased through the Muslim Lifeshop online application for 25,000 rupiahs or purchased at the event location for 30,000 rupiahs.
After Muslim LifeFest, KPMI as a strategic partner of PT Halal Expo Indonesia will hold the largest B2B exhibition for the halal industry in Indonesia as well as an international conference on October 25-29, 2023 at the Jakarta Convention Center (JCC) in Senayan, Central Jakarta.
The activity will last three days for business days and two days for the public.
Editing by Indonesia Window