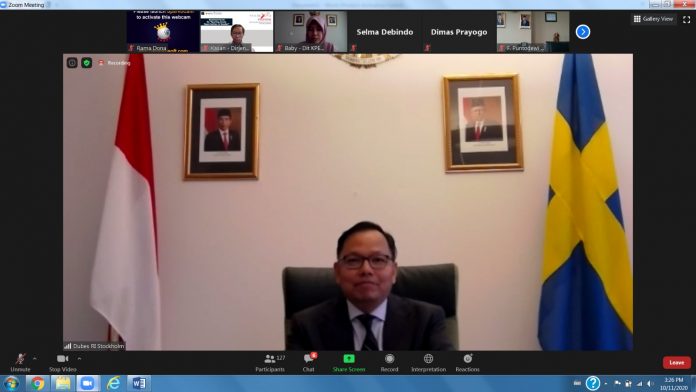 Jakarta (Indonesia Window) – Electric bikes are is increasingly in demand by Swedish people, opening opportunities for Indonesian export products to the Scandinavian country.
The opportunity was discussed in a virtual business forum entitled Sporting Goods Opportunity in Sweden which was held by the Indonesian Embassy in Stockholm and the Open Trade Gate on Tuesday (Nov 10).
The business forum provided an overview of the market opportunities for sports equipment, especially bicycles, in Sweden.
"The Swedish sports culture can be explored by Indonesian producers to make the country as one of the export destinations markets. Our export numbers are currently still small compared to our potentials. We should improve it," Indonesian Ambassador to Sweden Kamapradipta Isnomo remarked during the opening of the event.
The ambassador emphasized that as a country with a high level of innovation, the opportunities for cooperation between Sweden and Indonesia in the field of research and development are wide open.
"Swedish innovation and technology combined with Indonesia's technical capacity have the potential to produce sports equipment and bicycles with label 'designed in Sweden and made in Indonesia'," Ambassador Kamapradipta said.
Meanwhile, the Director General of National Export Development at the Indonesian Ministry of Trade, Kasan, explained the importance of filling the sports equipment commodity market amid the COVID-19 pandemic.
"The pandemic has encouraged the global community to be more active in exercising to maintain health. In Sweden, there are four seasons which is a good opportunity for Indonesian producers to fill the Swedish market," he said.
Meanwhile, a representative from the Swedish Open Trade Gate, Anamaria Deliu, said one of the challenges for Indonesian exporters was to ensure domestic production capacity to meet demand.
The producers also have to make their products accordance with standards set by the Swedish and European Union markets.
On the other hand, so far there are less competitors in the Swedish e-bike market, making the opportunities for Indonesian products exports bigger and bigger.
Reporting by Indonesia Window