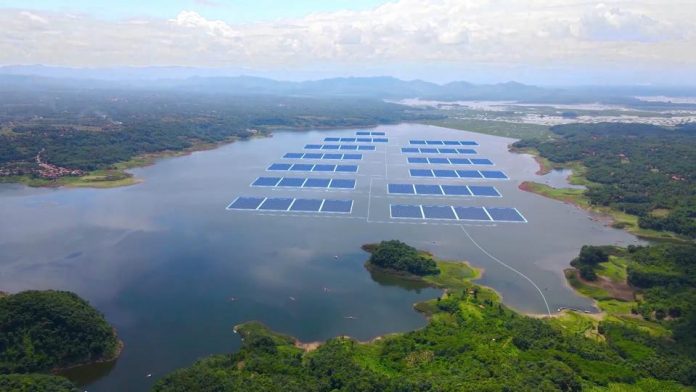 Jakarta (Indonesia Window) – The 145 MWac (Megawatt alternating current) floating solar power plant project by the United Arab Emirates (UAE)'s company, Masdar, and Indonesia's PJB Investasi has reached a financial closing.
Therefore, the construction of the floating solar power plant in Cirata Reservoir, Purwakarta district, West Java province, is expected to be completed in November 2022.
Indonesian Ambassador to the UAE Husin Bagis said that the start of the Cirata floating power plant construction would further enhance cooperation between the two countries, especially in the field of renewable energy.
"We hope that the financial closing could be a new chapter in enhancing Indonesia-UAE cooperation in the field of renewable energy," he said in an official statement on Tuesday (Aug. 3).
According to Ambassador Husin, the progress achieved by the consortium of Masdar and PJB Investasi through their subsidiary in Indonesia, PT PJB Masdar Solar Energi (PMSE), is very promising.
"Thanks to the support of all stakeholders in Jakarta, this investment project worth 129 million U.S. dollars can continue to run, even in the midst of various limitations due to the pandemic that has hit since last year," he said.
The investment project is expected to contribute to the Indonesian government's efforts to push the renewable energy mix by 23 percent.
"This power plant will illuminate 50,000 houses and reduce 214,000 tons of carbon dioxide emissions, as well as absorb 800 workers," said Ambassador Husin.
The consortium's success in securing financing through Sumitomo Mitsui Banking Corporation (SMBC), Societe General and Standard Chartered, shows that Masdar and PJB Investasi are trusted by international financial institutions.
"Hopefully, in the future, Masdar will develop more renewable energy projects in Indonesia. They have expressed their commitment to build 1 Gigawatt in Indonesia," said the ambassador.
The 145 MWac Cirata Floating Solar Power Plant will be the largest capacity of its kind in Southeast Asia.
The signing of the Power Purchase Agreement (PPA) was carried out on January 12, 2020, by Indonesia's National Electricity Company (PLN)'s President Director Zulkifli Zaini, Masdar's CEO Mohamed Jameel Al Friendly, and PJB Investasi President Director.
Reporting by Indonesia Window