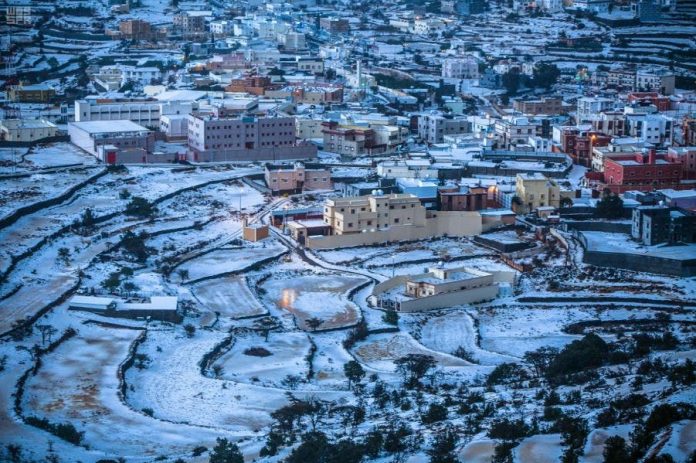 Jakarta (Indonesia Window) – Heavy snowfall and gales, which swept many areas of the Middle East region, covered Saudi Arabia's northwestern region of Tabuk on early Thursday (Feb. 18), Saudi Gazette reported.
The snowstorm named Joyce that hit the Levant (Lebanon, Syria, Iraq, Palestine, and Jordan) is considered to be the strongest in several years, accompanying torrential rains with lightning, thunder, hail, and snow that may reach 1,100 meters.
Weather forecasts stated that the storm will continue until Friday.
Many parts of the Tabuk region are witnessing severe cold waves accompanied by heavy snowfall that blanketed most of the plains and mountainous regions since Wednesday evening (Feb. 17).
Earlier, weather expert Hassan Karani revealed, on his Twitter account, that snow would fall on the northwestern regions of the kingdom, its coasts, and the northern borders, starting from Wednesday.
This situation would also be witnessed in Turaif and Qurayyat along with Egypt, he said while calling on everyone to wear winter clothes in light of the severe cold wave.
Snow blanketed most parts of Syria, Lebanon, Palestine, and Jordan on Wednesday, blocking roads, disrupting traffic, and postponing vaccination campaigns against coronavirus in many affected areas, and this snowstorm crossed northern border regions of Saudi Arabia.
Many government agencies in the northern regions intensified monitoring to avoid any mishaps caused by snowfall as well as to ensure that the local residents and picnickers strictly adhere to the coronavirus protocols.
Reporting by Indonesia Window