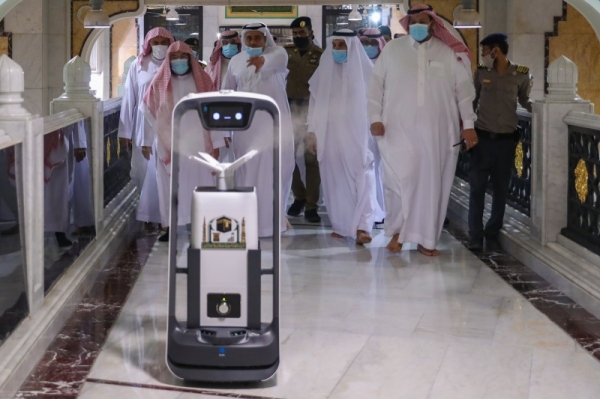 Bekasi, West Java (Indonesia Window) – In order to optimize efforts to curb the COVID-19 pandemic in the Grand Mosque in Makkah, the Presidency for the Affairs of the Two Holy Mosques has launched smart robots that work with a high-resolution Simultaneous Localization and Mapping (SLAM) automation system, according to the Saudi Gazette report.
"The robot focuses on internal sterilization at six levels, which improves the strength and safety of the environmental health atmosphere. It also intelligently analyzes sterilization requirements such as using scenarios, sterilization path, and independently planned duration to fully cover the environmental space," Head of the Presidency for the Affairs of the Two Holy Mosques Sheikh Abdul Rahman Al-Sudais stated.
He added that the launch of the high-precision robot would contribute significantly to the massive efforts to stem the spread of the coronavirus pandemic and other epidemics.
Under SLAM, robots are made completely autonomous, allowing them to navigate independently in an unknown environment, know their position and orientation, and map the environment with their own sensors without any external information.
The robotic device contains an early warning feature with audio transmission at the required time as well as a battery charging feature.
The robots work from five to eight hours without human intervention and it is also able to make people feel easy to deal with it.
The device has the capacity to accommodate 23.8 liters of disinfectants and takes an hour to spray approximately two liters, and can eliminate bacteria in a closed area of 600 square meters at a time.
The device, which contains a camera with high-quality radar for mapping, has obtained international certificates, including from the European CE marking certification.
Reporting by Raihanatul Radhwa