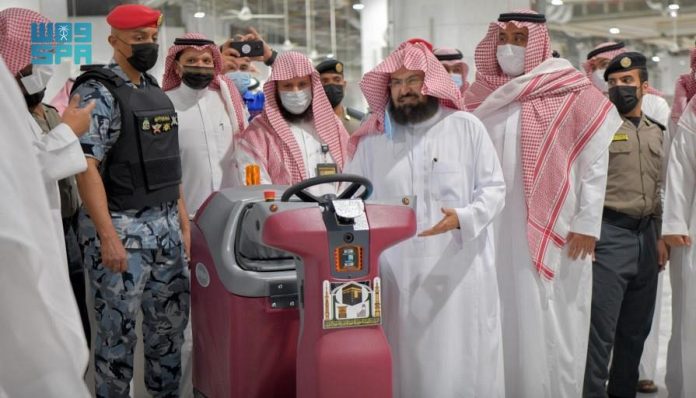 Jakarta (Indonesia Window) – The President of the General Presidency for the Affairs of the Two Holy Mosques Sheikh Abdulrahman bin Abdulaziz Al-Sudais inaugurated on Wednesday (Oct. 27) the smart disinfection robot at the Grand Mosque.
The robot which works for four hours, with a capacity of more than 68 liters of water, is able to sterilize the Grand Mosque more than 2,000 square meters per working hour, Saudi Press Agency reported.
Sheikh Al-Sudais stressed that the General Presidency works according to a clear methodology that depends on preparing the Two Holy Mosques and their system of services in accordance with the latest studies and modern international specifications to ensure that pilgrims and visitors have the finest experience when they arrive at the squares of the Two Holy Mosques.
The Presidency works to provide an experience in a manner that reflects the honorable and civilized image of the Kingdom in serving the Two Holy Mosques (the Grand Mosque in Makkah and the Prophet's Mosque in Madinah), and their pilgrims.
He also praised the tasks of smart robots and modern technological means and their active role in improving the system of services being provided to visitors to the Grand Mosque in accordance with the latest international standards.
Reporting by Indonesia Window