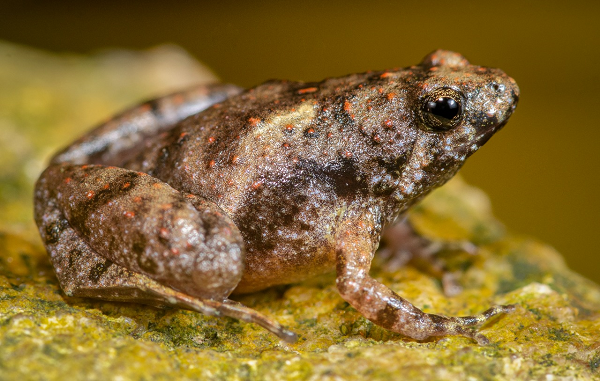 Bogor, W Java (Indonesia Window) – A team from Indonesia's Center for Biological Research has discovered a new species of small, narrow-mouthed frog from Belitung island and Lampung named Microhyla sriwijaya.
A herpetologist, Amir Hamidy, explained that the name Sriwijaya refers to the name of the first unifying kingdom of the archipelago which dominated most of the Malay Archipelago.
"It (Sriwijaya) was based in Sumatra and influenced Southeast Asia region between the 7th and 11th centuries," he noted, according the Indonesian Institute of Sciences (LIPI) website, quoted here on Friday (Oct. 1).
Amir pointed out that the discovery of the new species was an adult male frog with a snout length of only 12.3-15.8 mm.
The discovery of a new species of Microhyla genus was published in Zootaxa journal on September 2, 2021.
"This frog is a member of M. achatina and a relative of M. orientalis. However, based on its morphological, molecular, and acoustical analysis, there are some differences and we identified this frog as a new species," said Amir.
The frog specimens were found in 2018 and 2019 in oil palm plantations on Belitung island and Lampung in southeastern Sumatra by a herpetology team.
The male frogs are smaller than the female with a body length of less than 16 mm. "The snout is blunt and round, has reddish brown or orange dorsal markings with prominent skin tubercles," Amir pointed out.
Meanwhile, one of the discoverers of this new species, Rury Eprilurahman, from the Faculty of Biology, Gadjah Mada University, added that currently Indonesia has nine species of Microhyla, namely M. achatina (Java), M. berdmorei (Kalimantan and Sumatra), M. mukhlesuri (Sumatra), M. gadjahmadai (Sumatra), M. heymonsi (Sumatra), M. Malang (Kalimantan), M. orientalis (Java, Bali, Sulawesi, and Timor), M. palmipes (Bali, Java, and Sumatra), and M. superciliaris (Sumatra).
Of these, four species, namely M. achatina, M. gadjahmadai, M. orientalis, and M. palmipes, are endemic to Indonesia.
In addition, Rury explained that Sumatra island is the second largest area for Microhyla species diversity, with seven out of nine Indonesian species, namely M. achatina, M. berdmorei, M. gadjahmadai, M. heymonsi, M. fissipes, M. palmipes, and M. superciliaris.
Amir explained that the amphibian habitat on Belitung island is threatened by anthropogenic activities. The discovery of Microhyla sriwijaya underscores the need to preserve the island's natural habitat.
In addition, he continued, it is necessary to conduct extensive herpetological surveys and studies.
The island's first endemic amphibian species named Ichthyophis billitonensis was described more than 50 years ago by Taylor.
Furthermore, in 2021, a new species of frog was discovered on the island and was named Leptobrachium ingeri (Hamidy et al., 2012).
"Despite these discoveries, there are no amphibian surveys as well as published literature specifically on this island," said Amir.
Reporting by Indonesia Window